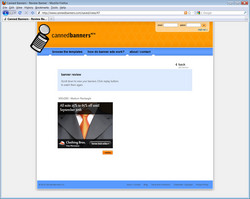 When a sales rep can quickly create a high-quality sample banner ad for a local business, it's a very effective way of demonstrating that an online ad campaign doesn't have to be complicated or expensive.
San Francisco, CA (PRWEB) September 15, 2010
Canned Banners (http://www.cannedbanners.com) released version 1.3 of its self-service ad creation platform today. This release of the web-based service now allows advertisers and ad sales reps to create banner ads for free and share them online with colleagues, clients, or prospects.
Canned Banners simplifies online display advertising by automating the often costly and time-consuming process of developing banner ads. With Canned Banners, small businesses and marketers can quickly create professional-looking banner ads by adding their own images and a few sentences of text. Today's release maintains the platform's simple step-by-step ad creation process while giving users more flexibility to save, edit, and share their ads.
Myles Younger, co-founder and head of marketing said: "The ability to make a banner ad and share it online is a more useful feature than it might seem. It can be an extremely powerful sales and prospecting tool for online ad sales reps. When a sales rep can quickly put together a high-quality sample ad for a local business, they've got a much more effective way of demonstrating that a professional online ad campaign doesn't have to be complicated or expensive."
The sharing feature is completely free of charge. Canned Banners users are only required to pay when exporting their finished banner ads as SWF files.
In order to share a banner, users first need to create an account, build a banner ad, and save it. Then, whenever users view or edit the banner, they can simply copy and paste the URL into an email, instant message, or social sharing tool.
A sample ad created and shared using Canned Banners can be viewed here: http://www.cannedbanners.com/saved/view/47
Press Contact:
Myles Younger
Co-founder, Marketing and Business Development
myles(dot)younger(at)cannedbanners(dot)com
About Canned Banners:
Canned Banners allows small businesses and marketers to quickly create their own professional-looking Flash banner ads. Users select from a variety of templates and add their own text, logo, and images. Canned Banners offers small businesses access to sophisticated Flash banner design at a low price, and offers larger companies a cheaper and more nimble alternative to the agency process.
###