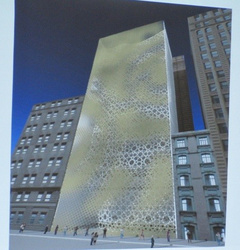 Education leads to understanding, understanding leads to tolerance, tolerance leads to friendship and friendship leads to peace
New York, NY (PRWEB) September 27, 2010
Rabbi Leonard A. Schoolman, who has devoted much of his career to inter-religious education, has teamed up with Dr. Hussein Rashid, an up-and-coming leader in New York's Muslim community, to fight religious intolerance and ignorance with a unique educational program – held at a Christian church in Manhattan.
Rabbi Schoolman, a Manhattan-based educator, was, for almost 20 years, director of programs for the Union of American Hebrew Congregations (now the Union for Reform Judaism). He is the author of the book, "The Changing Christian World: A Brief Introduction for Jews." For the past 12 years he has run programs on inter-religious understanding at both St. Bartholomew's Church and Park Avenue Christian Church, two influential congregations on the east side of Manhattan.
"The only way to fight intolerance, and its close cousin ignorance, is through education," says Rabbi Schoolman. "Even though there are almost a million Muslims living in New York City, most New Yorkers do not have any idea of the tenets and politics within Islam, and the common threads that Christians, Jews and Muslims share."
"Dr. Rashid and I want to stimulate people's thinking about religion – their religion and the religion of others – and provide a safe environment that answers people's questions and respects their doubts," says Schoolman. "We know that education leads to understanding, understanding leads to tolerance, tolerance leads to friendship and friendship leads to peace."
Dr. Hussein Rashid is a native New Yorker and Islamic scholar. He has appeared on the CBS Evening News, CNN, Russia Today, Channel 4 (UK), Air America Radio, and Iqra TV in Saudi Arabia.
"Introduction to Islam," a four-week course to be taught at the Park Avenue Christian Church beginning October 6, will cover the principal beliefs of Islam, the differences between Sunnis and Shiites, the Muslim "Bible" the Qur'an, as well as the idea of jihad. Dr. Rashid will teach this course, sharing his experience as an American-born Muslim and in-demand commentator on the controversies that surround Islam in New York and globally.
Dr. Rashid and Rabbi Schoolman share teaching duties for "Tenets and Tensions: Christians, Muslims, and Jews," a three-week course beginning November 3. They will dissect the tensions affecting religion today, especially the causes of the current anti-Muslim rhetoric surrounding the proposal of a new Islamic community center in Lower Manhattan.
These programs are presented under the auspices of Quest: A Center for Spiritual Inquiry. Quest is a program of the Park Avenue Christian Church, located at 1010 Park Avenue at 85th Street in Manhattan. Registration and course information is available at http://www.questcenter.us.
###