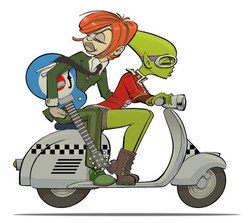 "One of the Stronger releases of 2010. VERY HIGHLY RECOMMENDED" - Not Lame Records.
(PRWEB) September 30, 2010
Sunny skies ahead for this psychpop comic rock troupe.
After making some small inroads on social networking sites in the previous two years, the mysterious Australian musical project Skeleton Staff have suddenly started to make a big international impression.
Currently being distributed by no less than three international labels (Powerpop Academy in Japan, Kool Kat and the Legendary Not Lame in the States), Skeleton Staff are picking up some glowing critical appraisals:
"This criminally overlooked band from Australia has been rightly described as "like Crowded House being bent over the bar by XTC." The band is represented by imaginative animated-style characters (they have a comic strip posted on myspace regularly) and has a combination of influences old and new bathed in sugary sweet pop. It`s almost like discovering The Wiggles, except it`s for adults...The title, "Solipsism" is the philosophical idea that only one`s own mind is sure to exist. Here is an album that proves great power pop exists too."

"What a stunning piece of work "Solipsism" is! I am very, very impressed! Memorable tunes, wonderful vocals, crisp production... a well crafted disc of excellence in my book! I`ll be recommending this to all my ShockPop listeners!"

"One of the Stronger releases of 2010. VERY HIGHLY RECOMMENDED"

The cartoon bands musical identity is complemented by the amusing Skeleton Staff comic strip, which can be found on several networking sites such as this
So the only thing left to do is join the fun and become a member of the staff! Buy the album itself from outlets such as the website below, and join the growing number of fans on facebook, twitter and myspace
###