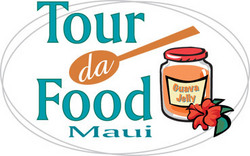 "Loved every minute of it…no tour could equal yours!!" -David & Nikki Colorado
Wailuku, HI (PRWEB) September 15, 2010
Bonnie Friedman has added a new service to Tour da Food Maui. It's called "Cuisine Confidential" and for just $10, she creates Personalized Maui restaurant guides. "I think more visitors want 'the inside scoop' from someone who truly knows the dining scene – both local and upscale," says Keli'i Brown, Director of Public Relations & Promotions for the Maui Visitors Bureau.
The process is simple. Go to her Tour da Food website, click on the Cuisine Confidential tab and fill out a brief questionnaire. Customers receive a PayPal invoice and within 72 hours, Friedman sends out a personalized, up-to-the-minute list of 20 restaurant recommendations including all the need-to-know details.
Established in 2008, Tour da Food Maui offers customized tours of Maui's hidden ethnic food treasures in both Wailuku and Upcountry for from one to three guests. "I think you can learn a great deal about a culture from its food. The places I take Tour da Food Maui guests are places they would, literally, never find on their own. They are far off the beaten visitor path. They often get to taste foods they've never tasted before. Most of all, they come away with a much better understanding of the fantastic ethnic mix that makes up the culture of the Hawaiian Islands."
Friedman has lived on Maui for almost 30 years and has always been immersed in the local dining scene. She is a former Dining Editor of The Maui News and, for more than two decades, her public relations company, Grapevine Productions, has included dozens of Maui chefs and their restaurants on its client list. She has co-authored two cookbooks for Ten Speed Press and writes regularly about food and travel for newspapers and national magazines. In May 2007, she fulfilled a longtime dream and becamse a certified pastry cook.
Please visit http://www.tourdafood.com or call her at 808-242-8383 or for more information.
###