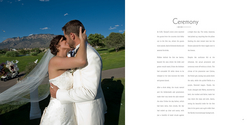 What we create is not a wedding album -- it's a book. It's really the story of the couple—how they found each other, fell in love and got married
Beverly Hills, CA (PRWEB) September 15, 2010
The wedding album has long been a cherished memento of one of the most important days in a couple's life together. But as the memories fade and the album is passed on through the generations, details of this important occasion, and the couple's journey to get there, can be lost. That's where WriteShot comes in.
Founded by photographers and journalists Natasha Chornesky and Chris Cozzone, WriteShot delivers not only magazine-quality photos of a couple's wedding day; Chornesky and Cozzone document the whole love story—from the first meeting through the courtship and engagement—capturing every detail of the wedding week and day, through extensive interviews with the couple, their family and friends. The complete story is then written, laid out with accompanying photographs and professionally printed and bound into an heirloom-quality, Taschen-style book that uniquely captures each couple's personality, documenting their love story for generations to come.
"The idea for WriteShot came to us when we were covering a boxing match in Vegas, of all things," said Cozzone. "As photographers and journalists, we are typically assigned to cover an event for a week or more and this fight was no different. There were the arrivals to capture, the individual interviews, the preparation and the event itself. We got to talking about how surprising it is that weddings—which are one of the most important events in people's lives—are typically captured in just one short day. We knew we could do it better."
Cozzone and Chornesky commit to only two weddings per month so they can spend one full week interviewing and photographing each couple in the days leading up to their wedding, and another week laying out the final copy and photographs. Each 10"x10" book is completely custom and contains an average of 100 heavy-stock, glossy pages of text and images. Photos from the couple's dating life or honeymoon can also be incorporated.
"What we create is not a wedding album -- it's a book. It's really the story of the couple—how they found each other, fell in love and got married," said Chornesky. "We get to know our clients really, really well. We know who's important to them and who drives them crazy. So when it comes time to assemble the book, we are very comfortable telling their story the way they want it told. We submit proofs for approval before the book goes to print, but honestly, we get very, very few edits."
Cozzone and Chornesky have more than 20 years of photography and journalism experience between them. Their photographs and articles have appeared in publications spanning the globe including Newsweek, The New York Times, Playboy and Der Spiegel. In addition, Cozzone has won multiple awards for his magazine layout and photography work. Chornesky taught journalism and her work has appeared in national educational publications.
WriteShot is based in Los Angeles and Las Vegas, but Chornesky and Cozzone travel the globe to cover weddings. Packages start at $7,500, which includes a week of coverage, unlimited hours on the wedding day, a private online gallery, a disc of all of the images and three copies of the final book. For more details, visit http://www.writeshot.com.
###