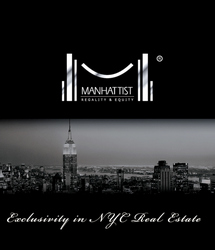 New York, NY (PRWEB) September 16, 2010
After decades of a clogged-up, overwrought and corrupt system, one company is finally blazing the way in fixing the Real Estate economy. Manhattist Inc, a boutique luxury real estate firm, is slashing 20% of any commission it makes off sales to give you, the consumer, the break you most certainly deserve. An active market is a healthy market, and for years the Manhattan Property Market has been plagued by greed and excessive payments, resulting in disastrous consequences for the cosmopolitan realty economy; consumers are hesitant to buy or rent for fear of becoming entangled in an oftentimes engrossing industry. Manhattist is choosing to revolutionize Real Estate by transforming its operative model, placing transparency, intelligence and absolute honesty with consumers at the very top of its priorities.
It is for these reasons that Manhattist Inc is giving their clients 20% of their commission on any sales back. Take the cash-- use it to lower closing costs, buy new furniture or celebrate a healthy deal! "However you choose to spend it," they say, "know that our company is not here to swallow your money but to ensure you make make investments you're proud to call your own."
CEO Danny Sedjati writes: "Come take advantage of our offer! The market is ripe, and with our bargain on luxury properties, the time has never been better for you to indulge in the city's loveliest 5-star properties." With offers like these, it seems Mr. Sedjati is right indeed.
###