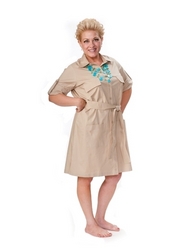 "this company fills a neglected clothing niche" The Pittsburgh Tribune
Pittsburgh, PA (PRWEB) September 20, 2010
Petite Plus by Diane Dubé will be featured at the Friday night Fashion Show for special sizes at Pittsburgh Fashion Week on October 1. Diane Dubé's specialty line of better clothing is designed exclusively for the petite plus size woman. Sizes 14 WP – 24 WP. This fashion forward, fabulous line, dresses a niche market of women who previously struggled to find clothing to fit. Designs in keeping with today's styles are made from amazing fabrics imported from all over the world for their beauty and hand. Many of the fabrics have some stretch for comfort and to maintain the garments shape. This new designer has been a hit in boutiques across the country and is developing a strong web presence in the petite plus industry.
Petite Plus by Diane Dubé is the new fashion line of Oval Clothing. Oval Clothing launched in the summer of 2008 with a small selection of petite plus fashions and showed in Atlanta at Atlantasmart, Las Vegas at the WWIN show and at the Florida Focus Show in Ft. Lauderdale. The new line focuses on a more well rounded wardrobe dressing for everyday and the office as well as adding a few cocktail dresses into the mix.
Petite Plus women finally have a selection of clothing that fits proportionally to their shape. Diane Dubé's clothing is fitted to a body form and are not cookie cutter fashions simply cut an inch smaller per size. Special attention is given to the narrower shoulders, shorter hems, raised darts, higher waists, wider girths and higher arm openings. This target group can now button a blouse all the way to the bottom and slip into that little black dress and have the waist at their waist.
Although this is a niche market, surprisingly, with 60% of the population over weight, half of those are women and half of those women are 5'4" or shorter. Therefore, our target customer encompasses 15% of the population. Obviously our demographic is a higher end customer which eliminates a vast percentage of women and most especially so during these trying financial times. It is our hope that as we grow and the economy improves, we will be able to reach a broader market segment. As the company develops more products, we hope to expand to provide fashions for an even wider customer base.
Pittsburgh Fashion Week will be a springboard to push Petite Plus by Diane Dubé into the spotlight and open the doors to a fashion revolution for petite plus women.
Visit the website http://www.dianedube.com if you aren't in Pittsburgh for Fashion Week. This is not to be missed.
###