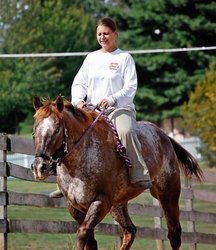 Our blind horses act the same as any other horse; they just get around a bit differently.
Mount Airy, MD (PRWEB) September 27, 2010
HorseNet Horse Rescue has 2 farms in Maryland. At their Mount Airy facility, they care for a herd of blind and visually impaired horses. The rescue has always had a small number of blind horses, but the number has grown in the past few months as more people surrender horses due to the economy.To their knowledge, they are the only rescue in the country with a herd focused on blind horses. Part of their central mission is that all horses, no matter what their ability, can have a purpose. To that end, their horses learn new skills throughout their life. Mr. Toad, a former lessons horse who went blind is now going through training and will be likely be ridden at HorseNet's Fall Festival on October 23rd in Mt. Airy.
Walking through this Mount Airy, Maryland farm, you see all kinds of horses; thoroughbreds who raced in a former life, lessons horses from local riding schools, miniature ponies and a mule from Amish Country. But it is at the top of the hill, in a field with a sign marked "Blind Community", where these 15 very special horses have found a permanent home.
Horses can go blind for a number of reasons; health, age, abuse and injury. Horses can live to be over 40 years old, and with age often comes declining vision. However, vision problems do not impede the horses' quality of life. " Our blind horses act the same as any other horse; they just get around a bit differently" says Laura Jones, HorseNet's Director of Public Relations. "We often use our voices and other sounds to help them find things, but they don't typically need much extra help" says Jones. Once they are acclimated to an area, they are able to find their way around with ease. Usually HorseNet has one horse in the field with full or partial vision acting as a "seeing eye horse" for the others.
These horses will stay at HorseNet for the remainder of their lives, and are supported by donations. Sponsorships start at $12 a month and sponsors receive a photo and story of their horse and other benefits. Funds go towards food, medical care, grooming and other care for the horses.
HorseNet is looking for help promoting their blind herd, and raising money for Jericho's Fund, named after a long time resident of the blind herd who passed away last year. The fund exists to refurbish the blind herd's field and shelter area and fencing. HorseNet is also hoping to connect with other organizations who advocate for the blind, and welcomes inquiries from organizations and individuals about the blind herd.
HorseNet is a 100% volunteer run non-profit which is entirely donation supported. To learn more about HorseNet and all of their horses, please visit http://www.hnhr.org.
###