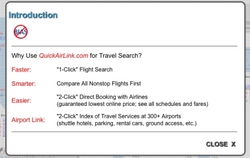 QuickAirLink is a visual flight map that provides a 1-Click experience that traditional travel search engines can't match.
Santa Clara, CA (PRWEB) September 15, 2010
Because QuickAirLink uses a visual experience, it is easier to show how the site works than to explain it. The video link below shows the "1-Click Nonstop Flight Search" feature: http://www.youtube.com/watch?v=7-Iyaxf0Lvw&feature=player_embedded
This air portal site does not sell tickets but provides "smart comparisons" to educate users about all of their most convenient options. Then travelers "quick link" directly to their selected airline. Users review detailed schedules, pricing and, when ready, book their "best value" service. Direct booking with airlines offers the following benefits: guaranteed lowest online price (almost always), web-only fares, frequent flier miles, and easier communication if ticketing changes are required.
The video link below demonstrates the "2-Click Airline Booking" feature: http://www.youtube.com/watch?v=d07Gvc4_2Bc&feature=player_embedded
The "Introduction" popup summarizes the unique features and benefits that QuickAirLink offers to air travelers:

Faster: 1-Click Nonstop Flight Search
Smarter: Compare All Nonstop Flights First
Easier: 2-Click Direct Booking with Airlines
Airport Link: 2-Click Index of Travel Services at 300+ Airports
This is the only travel site that provides unbiased displays to show all nonstop flights by every airline at 300 U.S. Airports. The portal acts as a "buyer's agent" to help its customer's find their "best value" flight, defined as the "most convenient, quickest flight for the price." The site then provides faster booking with a 1-click link to the online sites of airlines and other actual service operators. QuickAirLink does not sell any tickets or services on its site. Airlines and travel service operators pay QuickAirLink for lead referrals of educated travelers who are ready to buy. Direct sales by airlines is more cost-effective than paying commissions to online travel agents or other intermediary sellers.
###