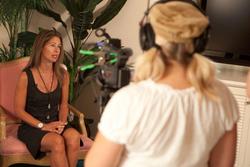 "...I figured if I could do it for love, I could certainly try and get the same results for business." Kim Kaplan, owner-Kim Kaplan Productions
Rocklin, CA (PRWEB) September 15, 2010
Kim Kaplan, former morning radio personality, spent 15 years waking up listeners in Northern California with attitude and a desire to be different than her disc jockey competitors, and succeeded with the number one morning show in Sacramento in 1997.
After a few years interviewing musicians and celebrities, she quickly realized the platform she had been given and decided to make an effort to help non-profit groups who needed to create awareness and raise money. She successfully raised tens of thousands of dollars for many non-profits including the Leukemia and Lymphoma Society where she sat on the Board of Trustees for seven years, The American Heart Association, Habitat for Humanity and many arts organizations and smaller non-profits like Roseville Homestart, an organization that provides temporary housing for the homeless.
Most recently, Kaplan has started working with Albie Aware, a small non-profit dedicated to providing support, education and financial help to those who have been diagnosed with breast cancer as well as to create awareness and testing for people who have no financial means for mammography and other diagnostic tests.
Although Kaplan has many clients who are not non-profit status, she has taken the role of "match-maker", partnering her business clients with her non-profit clients, both in need of some public relations and marketing support.
One of her clients, Glissando Cosmetics who recently launched their new product line, needed some public relations help, but also expressed the desire to give back to a non-profit organization. Kaplan introduced the cosmetic company with her newest non-profit client and has organized a large fundraiser called Albie Beautiful, which will provide full make-overs for women who have or are undergoing chemotherapy treatment for breast cancer using the new line of cosmetics. Along with the make-overs, Kaplan has created the Albie Beautiful Champagne Luncheon which will honor those women fighting breast cancer and will include other local female television and radio personalities. "The women in our local media talent pool are all exceptional, and most of us know each other pretty well", says Kaplan. "It made sense to get them involved in support of this great cause, and show that we care, and we do."
When asked about her "matchmaking" skills, Kaplan say's she's had great success in matching up her friends, two of which have successful marriages. "...I figured if I could do it for love, I could certainly try and get the same results for business", adding "... if the organization raises money, and the business gets a large amount of the attention for a fraction of the cost, it's a win-win. I just made two clients very happy, and when my clients are happy, my business is happy."
Kaplan hopes to raise more than $10,000 during the two hour event, and with the help of Glissando Cosmetics, that should go up another 15-20% as they have offered to give back 30% of all sales during the month of October to Albie Aware.
The Albie Beautiful Champagne Luncheon will take place on October 27th at Hawks Restaurant in Granite Bay, California.
Kim Kaplan Productions is a full service audio and video production company with an emphasis on marketing and public relations for small businesses and non-profits. Kim Kaplan Productions is located in Rocklin, California.
###