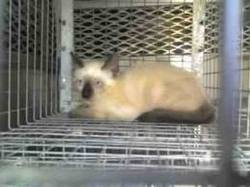 Networking does save lives!
Bellingham, WA (PRWEB) September 15, 2010
Especially since the foreclosure crisis, and because of the poor economy in general, the trend of surrendering pets to animal shelters has sadly skyrocketed. The rates of foreclosure and surrendering may not slow down soon. However, the good news is that the rescue field is vast, many people are trying desperately to rescue, and other people want to help the rescuers. More help is definitely needed.
Liz Marshall is a volunteer rescue cross poster who blogs and networks for pet rescue. Her blog lizardmarsh.net helps to rapidly disseminate alerts regarding cats and dogs needing rescue, as well as the need for charitable contributions to help the people who are heroically rescuing cats, dogs and other innocent animals. This is done by posting the message on the blog, then having it automatically syndicated on, for example, Facebook and Twitter. The post is also automatically going into the blogosphere via LinkedIn, MySpace, and more sites. Other people pick up the feeds without Liz Marshall knowing (which is generally fine and welcome). Liz also sends the URL for the blog post to lists of recipients, including Yahoo groups such as (to name just one among hundreds of possibilities) Foster Homes To The Rescue Yahoo group, in an email. Readers of the blog on the web and recipients of the email are welcome and encouraged to forward the link, retweet, and share. Networking does save lives.
The associated blog lizardmarshmart.net showcases appeals which are particularly focused on the need for financial gifts to support rescues, as opposed to the need to find rescuers, foster homes, or volunteer transporters willing to physically step up for a specific pet or group of pets. It is also a place for people to do fun, environmentally-friendly shopping. Some bloggers and webmasters have tabs for their shopping and donating sections, but in this example a second blog seemed to be an organized solution.
Technological advances in simple email, digital photography, videos, and social media have made it easier to spread the word (and pictures) about pets in danger. Many people are gripped by the apparent hopelessness of shelter animals and other animals in distress. With blogging, emailing, and social media sites, many more of these caring people can participate in saving lives by getting information and photos out to family, friends, and other associates in their network. They can also donate, no matter where in the world they are. Through mechanisms such as PayPal, ChipIn, FirstGiving and so on, it is fast and efficient for many people to join forces to raise funds for a specific pet or group of pets.
For three years, lizardmarsh.net has been one of the sites useful for getting the word out. The use of blog post links which can be so easily forwarded, and have the advantage of not losing the picture or original content, is recommended. Often, in forwarding emails to others' email in-boxes, content and photos are lost or garbled. A blog retains the original message and photos in tact and also can be updated at any time which means everyone who received the first transmission of the blog link in their inbox will see updates in a link if they are looking at it later.
Rescue cross posters are volunteers who take the initiative to help "original posters" reach wider audiences when they ask for it. First, the original observer, good Samaritan who "accidentally" rescued a pet off the street, a rescuer or other individual or organization puts an email in play to attract the needed help for an animal emergency, rescue, transport, or fundraiser. Then the rescue cross posters, which can include individuals using their email lists or Yahoo groups or blogs such as lizardmarsh.net, help with that communication effort. Presently many rescuers are full and strapped financially, so it is important to cross post widely to summon help. It is vitally important to reach increasing numbers of people in order to attract new and potential rescuers to the field.
Many people make generous donations to animal rescue. The need for additional and future generous donors to continue supporting the work of rescue is huge. As more and more charitable people can be reached to help facilitate rescues, more lives can be saved. Thankfully more people are rallying to physical rescue and to financially support the rescuers. Rescuers are seriously needed. Quick and efficient networkers are needed too. Donations are also needed. These are some of the ways more people have the opportunity to pitch in.
About Liz Marshall
Liz has been networking for pet rescue since Hurricane Katrina. The crisis of animals in shelters has always been dire, due to lack of spaying and neutering, and other reasons. With the increase in terrible events such as Hurricane Katrina and the Gulf Oil Disaster, even more pressures put multitudes of animals at risk of abandonment. Liz' Google Profile may be seen at: http://www.google.com/profiles/lizardmarsh
###