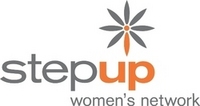 Los Angeles, CA (PRWEB) September 20, 2010
Despite the bleak statistics that show nearly one in three high school freshmen nationally will not earn diplomas, the nonprofit Step Up Women's Network is telling a much different story this fall. The 501(c)3 reports that each of the more than 75 students in its national Class of 2010 graduated high school this spring and has enrolled in college for the fall semester.
The teens have left their Los Angeles, Chicago, and New York high schools for college campuses including Yale, Dartmouth, and Vassar, and will study everything from the culinary arts, to education, to political science.
Step Up Women's Network empowers high school girls in underserved communities to reach their full potential through dynamic after-school and Saturday enrichment programming that helps girls become confident, college-bound, and career-ready.
Offering an average of 100 hours of programming per girl, Step Up combines the after-school programs with mentorship and paid internship opportunities that focus on career preparation. Now in its 12th year of service to women and girls, the organization calls on its 50,000 members and supporters to volunteer as mentors.
###