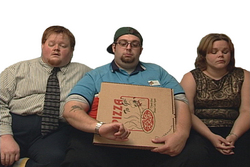 Film Sleepies simply have not made inroads against their artery-threatening competitors
Los Angeles, CA (PRWEB) September 15, 2010
"WebcamMurder.com," the first feature film in the Film Sleepy genre, is now available to be remixed by YouTube viewers. Film Sleepies, as the name implies, are independent films that put the audience to sleep.
Since summer 2008, filmmaker Sondra Lowell has allowed the 85 minute, six second classic-in-its-genre to be seen free of charge on YouTube in one minute segments.
"Even though we are well into the 21st century, people still cannot grasp the importance of getting enough sleep," she said at the time. "My film is just as boring no matter how little you see at one sitting, and it is easier to convince people to take a one minute cat nap than to give up texting while driving and other habits that keep moderns awake day and night."
Given the continuing preponderance of Non-Sleepy films, Sondra, like other makers of quiet, health-conscious motion pictures, despairs that, even in bite-sized morsels, Film Sleepies have not made inroads against their artery-threatening competitors.
Not that the news is all bad. "WebcamMurder.com" currently ranks #102,975 in Video on Demand on Amazon, and Sondra's second film, "Sublime Crime: A Subliminal Mystery" (the first subliminal mystery in history) is #83 among Film Noir.
Yet the perfectionist filmmaker fears that not enough viewers will overcome their Schwarzenneger/Terminator /1980s ways in time to cut their cholesterol or lengthen their lifespan.
"It's not just exciting movies that are keeping the public from giving Film Sleepies a try," said Sondra. "Uncertainties about the economy, the upcoming elections and Middle East unrest are also to blame. That is why allowing hesitant vampire and other adrenaline-addicted fans to take control of "WebcamMurder.com" is so important at this time, both for myself as the inventor of the genre and for the many whose lives will be enriched by the experience.
"A Film Sleepy remixed is still going to be a big bore. It's the hands-on activity of, in essence, co-producing a Film Sleepy that will bring about a life-changing, for them—and money-making somewhere down the line, for me—transformation."
The first nap begins at "WebcamMurder.com - Minute 1".
###