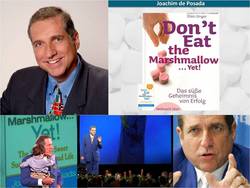 "I was honored to be invited to offer a motivational keynote in Germany after my colleagues heard me speaking in South Africa," said Joachim de Posada as he arrives in Germany to launch the local version of his best-seller.
Redondo Beach, CA (PRWEB) September 15, 2010
This week, Joachim de Posada, international professional speaker and best-selling author found himself in Cologne, Germany for the launch of the German edition of his book. Named Joaquin at birth, the speaker coined the name "Joachim" during his college years in Puerto Rico to add mystique to his entertainment work in hypnotism. So when he showed his event badge to Dr. Ulrich Wiek at the German Speakers Association conference, Weik said "I don't know how to tell you this, but Joachim is a rather boring name in Germany!" In characteristic good nature, the two shared laughter and conversation but at dinner time, in front of Dr. Wiek, he polled the table and no one said it was a boring name. He felt relieved. He would later add, "I am so glad Germany's soccer coach Joachim Löw did well at the 2010 World Cup, because maybe the name does need a little push here in Germany."
With a career that involves being recognized as "first ever" in many honors, De Posada becomes the first Hispanic ever selected as a keynote speaker for the German Speakers Association convention. De Posada is best known to the public as the co-author of the book "Don't Eat the Marshmallow… Yet," a best-seller with more than 2 million copies sold around the world and translated into 20 languages. "I was honored to be invited to offer a motivational keynote in Germany after my colleagues heard me speaking in South Africa," said De Posada.
For almost 3 decades, international motivational expert De Posada has made a mark on audiences in more than 60 countries with a unique message resulting from his career in academia, psychology, business, and sports. With a client list that includes many Fortune 500 corporations, professional conferences, and educational forums, Joachim de Posada applies proven principles to motivate and inspire people to reach new heights of personal and professional excellence. One of a handful of Latinos invited to speak twice at TED University, his 2009 TED presentation "Don't Eat the Marshmallow," went viral, reaching close to a million people around the world.
Joachim de Posada was recognized as one of the Top 25 Speakers in the U.S. in 2009 and in 2010 received the Certified Speaking Professional designation from the National Speakers Association, one of only three Hispanics in the world to hold it.
A distinguished, high-performing, international motivator, Joachim de Posada is a Platinum speaker at Latino Speakers Bureau. Founded in 2002, the Latino Speakers Bureau TM is a California-based corporation representing Hispanic professional speakers for events across the U.S. and the globe to offer corporate, non-profit, and conferences messages of inspiration, motivation, leadership, success, business expertise and the power of multiculturalism.
# # #