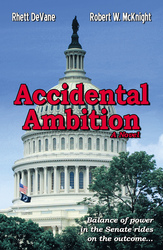 ...the balance of power in the Congress, and maybe even the free world could be riding on the outcome of this election.
Tallahassee, FL (PRWEB) September 15, 2010
Novelist Rhett DeVane and former Florida Senator Robert W. McKnight announced today the release of their long awaited political thriller novel, "Accidental Ambition."
The release of their book coincides with the 2010 election, and centers around an important re-election of a senior Republican U.S. Senator from Florida. The election is particularly important because the margin between the Republicans and Democrats in the Senate is a scant one vote. As a result, the balance of power in the Congress, and maybe even the free world could be riding on the outcome. The authors introduce the reader to multiple twists, turns, and surprises in the 372 pages; sex; and international intrigue and mystery with linkage to Cuba and Castro. Some will recall in reading "Accidental Ambition," previous Florida elections--some good, some not so good.
Rhett DeVane is the author of Southern fiction novels, "Madhatter's Guide to Chocolate" and "Up the Devil's Belly," and co-author with Larry Rock of "Evenings on Dark Island." Robert W. McKnight is the author of "Golden Years...The Florida Legislature, '70s and '80s. Reflections on Campaigns and Public Service."
Initial reviews of "Accidental Ambition" include:
"...absorbing...brims with profound insights into the schemes of politicians..."
Former U. S. Congressman Bill Gunter
"...the authors have come up with a unique blend of state, national and even international intrigue..."
Dr. James Denham and Dr. John Santosuosso, Lawton Chiles Center for Florida History
"...it's no accident that you will enjoy "Accidental Ambition."
Paula Kiger, Literary Editor
The book is a joint collaboration of DeVane and McKnight that started during the campaign of President Barack Obama in 2008. "We hope the readers enjoy this political thriller as much as we enjoyed writing it," said DeVane and McKnight.
"Accidental Ambition" (Infinity Publishing, ISBN 13:978-0-7414-6036-3, $18.95) is now available on line through http://www.buybooksontheweb.com or http://www.amazon.com; and will be available in all book stores after the first of the year.
###