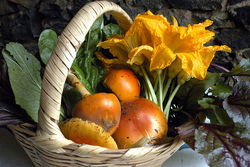 Weird vegetarian cooking is not the norm, but it quickly catches on.
San Francisco, CA (PRWEB) September 15, 2010
In the Mexican highlands, new chef Marie Oaks is creating a food paradise. With home-made products such as tofu, sauerkraut, kimchi, sprouts, salad dressings, salsa, tortillas, and more, Oaks is promoting healthy eating and providing visitors at the Bosque retreat center with fantastic gourmet meals.
Eager Visitors line up for the daily meals in the deep forest in the Mexican highlands. Visitors may come for various types of adventure but they all enjoy savoring the variety of meals provided by chef Marie Oaks.
Oaks is a new chef at the Bosque retreat center in the Mexican highlands, and she aims to create a fusion of traditional Mexican food and healthy vegetarian cuisine.
Meals at the Bosque are sure to be a delight - and an education.
"We are in the middle of rural Mexico, so weird vegetarian cooking is not the norm," Oaks says,"but it quickly catches on. Four of my Mexican friends in the nearby village have converted their families to healthy omnivorism: a mostly vegetarian diet with emphasis on fresh greens and veggies."
During meals there are usually informative posters explaining the value of the main ingredients and why certain ingredients are chosen over others.
"We use brown rice instead of white rice. Nothing is inherently bad about white rice, but there are more vitamins and minerals in brown rice. Our visitors notice that the taste difference is negligable, and often favors the healthier brown rice." Oaks incorporates local traditional foods into the meals she develops for the Bosque. Oaks creates vegetarian-Mexican meals and side dishes including cactus salad, brown rice a la mexicana, non-fried stuffed chiles, and various healthy fillings for tacos.
Meals such as hummus with locally made whole-wheat tortillas, salad with home-grown greens, beans and rice with freshly made corn tortillas and roasted salsa, or stir-fry and curry with homemade tofu make visitors come back to the Bosque retreat center, if only to experience the food. Jacky, a visitor from Canada said, "The food is delicious and plenty, meal after meal. I have never lived on just vegetarian food before but the food is so good here, I have not had any craving for meat."
Food is only one of the goals of Oaks and her partner Brian Fey, who run the Bosque Village. They are creating a permaculture retreat center that not only emphasizes healthy eating but also healthy living: daily exercise, learning activities, and interesting classes fill all visitor's days. Visitors partake in the sauna, scheduled games and classes, and movie-nights. Food remains the highlight, as visitor Harry from Massachusetts points out: "Thanks to Marie's master cooking skills, the food is incredibly tasty, healthy, and extremely difficult to resist eating too much!"
###