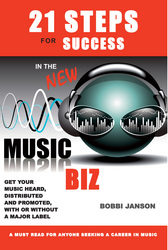 "Being naïve is a guarantee you'll be taken advantage of. Songwriters, artists and musicians need to be aware when signing single-song agreements or mechanical and synch licensing agreements."
Nashville, TN (PRWEB) October 1, 2010
Janson Media Group has released a national/international reference guide covering HUGE developments in the ever-changing world of "music business." 21 Steps for Success in the NEW Music Biz: Get Your Music Heard, Distributed and Promoted With or Without A Major Label - simplifies the record industry and shows musicians and recording artists how to "do it yourself" in the digital age.
The highly motivational 21 STEPS…. brings you inside the "inner circle" with tips on songwriting from the HIT makers. Learn how to submit your demo recording to the big "dawgs" so it stays out of the "musical slush pile." The book includes guidelines for songplugging and starting an independent publishing and record company. Record Promoter, Tony Michaelides (Matchbox Twenty, U2, Whitney Houston) called 21 STEPS "an amazing book that helps me remember why I got in this crazy business in the first place." Michaelides says "….all the research has been done for you. 21 STEPS is like a crash course in the music biz. It saves you time and money and points you in the right direction."
Executives from top music organizations, music biz entrepreneurs and independent recording artists contribute thought provoking quotes and fascinating stories. Topics include various ways to make money with your music; information on copyrights; music licensing; creating a fanbase using social media strategies; marketing plans; branding yourself; podcasts, webcasts, digital downloads and ringtones. Author, Bobbi Janson tells why she wrote the book, "Being naïve is a guarantee you'll be taken advantage of. Songwriters, artists and musicians need to be aware when signing single-song agreements or mechanical and synch licensing agreements." 21 STEPS…. translates contract lingo and shows you how to "speak like a pro," simplifying complex clauses with layman's terms. Sample contracts are included in the book.
The reviews are in: Los Angeles producer/director, Rocco Guarino (American Idol, Velvet Revolver Diane Warren), "Just when you're ready to pack it in and go back to your day job, you need to read 21 STEPS…." Mike Deeson (TV Reporter/ Nashville Songwriters Coordinator), "21 STEPS unlocks the door to see how the music industry works…. Kelly Stigall (Ron Rose Productions), "21 STEPS confirmed everything I learned at the NSAI Symposium…."Brian Austin Whitney (Just Plain Folks) writes, "Take advantage of the multitude of resources." 21 STEPS…. is a must read for anyone teaching or seeking a career in music. It's the book people who are "making music" can't leave home without!
Includes NEW Music Biz info on:

Podcasts, Webcasting and Video Streaming
Digital Distribution and Unclaimed Online Royalties
Music Licensing for Film/TV & Video Games
Hardcover, 464 pages, ISBN: 9781889131825, Janson Media Group, POB 7207, Bayonet Point, FL 34674, (888) 791 BOOK (2665) info(at)jansonmedia(dot)com, available wherever books are sold or online at http://www.21stepsmusicbiz.com.
# # #