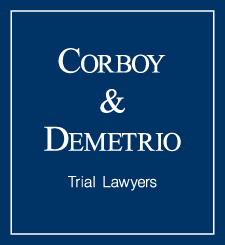 It is imperative that all the evidence is secured, protected and preserved and that experts are allowed to inspect the site
Chicago, IL (Vocus) September 14, 2010
Attorney Francis Patrick Murphy, a partner at the law firm of Corboy & Demetrio, filed a personal injury lawsuit today against the owner of a Chicago apartment building on behalf of his client who was seriously injured when the outside wooden porch she was standing on separated from the building and collapsed. Murphy also filed an emergency motion for a Protective Order seeking to preserve evidence.
The complaint alleges that on September 12, 2010, Alana Heber, along with several other guests, was attending a party and standing on a second story rear wooden porch of an apartment building at 3736 North Ashland in Chicago, Illinois, owned by Jean Lee. Without warning, the porch separated from the building and collapsed. Ms. Heber and the other guests were seriously injured.
The complaint further alleges that the porch was attached to the building with nails. Additionally, the owner failed to properly design, construct, maintain, inspect and repair the porch and did not comply with the requirements of the City of Chicago building code.
At the same time he filed the complaint, Murphy filed an emergency motion seeking to preserve and protect any and all evidence involved in the collapse, including all materials, records, photographs, videotapes, investigator records and statements. The motion was granted and a Protective Order was issued by Judge Jeffrey Lawrence of the Law Division of the Circuit Court of Cook County.
"It is imperative that all the evidence is secured, protected and preserved and that experts are allowed to inspect the site," said Murphy. "Our client's interest must be protected."
Heber v. Lee, Circuit Court of Cook County, Illinois; Case number 2010 L 10431
To consult with Attorney Murphy, or any other lawyer at our Chicago personal injury law firm, call 312.346.3191. We are available 24 hours a day, 7 days a week.
For up to the minute news and updates, please see our Corboy & Demetrio Twitter page.
About Corboy & Demetrio
Corboy & Demetrio is one of the nation's premier law firms. It represents individuals and their families in serious personal injury and wrongful death cases arising out of airplane and railroad disasters, failed products, medical malpractice and a host of other catastrophic events. Corboy and Demetrio is renowned for its achievements in the courtroom and for its contributions to the community. The rights and concerns of its clients are at the core of Corboy & Demetrio's practice. That commitment, dedication, compassion and relentless drive has resulted in exceptional service and exceptional results. The firm has acquired more than $3 billion in settlements and verdicts, of which nearly 600 were in excess of $1 million.