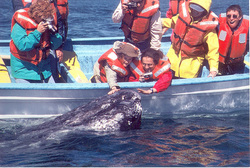 I have been traveling to Baja for 25 years and I feel very safe there. In fact I feel safer in Mexico than in most major US cities.
San Diego, CA (PRWEB) September 27, 2010
In spite of the bad press on drug wars, Mexico and Baja California are still traveled safely by tourists. The non-profit Vagabundos del Mar Boat & Travel Club, a pioneer in Baja tourism now with 10,000 members, is entering its 45th year of traveling all over Mexico and especially Baja California. Many members regularly travel the main Baja highway and back roads. The people of Baja are well known for their warmth, friendliness, hospitality and willingness to help tourists.
The current U.S. State Department travel notice states that millions of U.S. citizens safely visit Mexico each year, which includes tens of thousands who cross the border every day for study, tourism or business and at least one million US citizens who live in Mexico. Gloria Jones, Executive Manager of Club Vagabundos del Mar, says "I have been traveling to Baja for 25 years and I feel very safe there. In fact I feel safer in Mexico than in most major US cities."
Baja is a peninsula of incredible natural beauty 1,000 miles long directly south of the California border. The wonders of Baja encompass 2,000 miles of shoreline, with many white sand pristine beaches; fantastic deserts and majestic mountains with beautiful flora and fauna; and incredibly tranquil, azure seas. There are areas that contain life-size mysterious rock cave paintings that have been dated 10,000 years old, several World Heritage sites and national marine parks. Cities and towns are noted for their culture, relaxed lifestyle, gourmet restaurants and bargain shopping. There are also many bargain rates for accommodations right now. Many tourists gather in the fall for the famous adventure of the Baja 1000 off-road race, a tough, punishing endurance run through the desert. The Vagabundos (Spanish word for vagabond) Club was started in 1966 when a few good buddies began daring adventures into Baja California and mainland Mexico, looking for good fishing spots. In 1971, "the Vags" were incorporated as a non-profit social club, dedicated to helping members make friends and have fun. Today, they are Baja's oldest travel club still dedicated to their original mission:
"Helping its members travel safely, economically and enjoyably in all of North America, especially Baja California."
Vag RV caravans are led by very experienced wagonmasters who have traveled the roads many times. Each year there are several small boat cruises, big game fishing tournaments and get-togethers, both south and north of the border. Top notch cruise leaders ply the remote Pacific side of Baja and the Sea of Cortez to seek out the best of big game fishing, explore natural wonders and see incredible marine life. Vag members, Directors and Officers, and Caravan Leaders are traveling back and forth all of the time.
The Sea of Cortez, termed by Jacques Cousteau as the world's aquarium, has many islands that compare to the Galapagos. Sportfishing is still fantastic for marlin, sailfish, yellowtail, wahoo, dorado (mahi-mahi), big tuna and other types. Many species of whales are found which migrate there to have their young, including the blue whale, largest animal that ever lived on the planet. Ever dream of swimming or kayaking with dolphins or gentle whale sharks? There are encounters with schools of dolphins for as far as your eye can see. It's indescribably amazing to have an up close encounter with awesome marine mammals found around Baja.
Small lagoons on the Pacific side of the Peninsula are the destination for migrating gray whales traveling thousands of miles from the Arctic to have their young. Trained boat captains, sensitive to the welfare of the mammals, take out groups in small boats to watch these magnificent, intelligent animals. It's an incredible lifetime experience when a mother gently pushes her baby near to your boat and you reach out and touch the baby whale. Tourists come from all over the world to observe and admire these sea creatures which are known as the "friendlies".
Vagabundos helps tourists by offering one-stop service for low-cost vehicle insurance, and assistance with all required Mexican permits. A "Travel Buddies Calendar" is maintained at office Headquarters for those looking for company on the road. The Vag publication, "Chubasco" (Spanish for big wind), available in hard copy and online, gives club members up to date travel and road information, and provides valuable feedback from members who are on the road traveling to inform other members about safe travel and conditions.
If you've ever dreamed of visiting the Baja paradise, one of the planet's last frontiers, known to many as the beautiful Magnificent Peninsula, visit their website, http://www.vagabundos.com, or call their friendly staff at 800-474-Baja (800-474-2252), for more information.
###