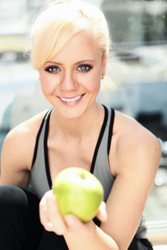 I love to cook. I love to workout and stay fit. I'm also a busy mother and wife with a full-time career. I've learned so much over the years and want to share it with other people that have the same challenges that I do
(PRWEB) September 28, 2010
Busy But Healthy™ Inc is proud to announce the launch of http://www.busybuthealthy.com, a new internet T.V. and radio show hosted by Kristine Fretwell, which provides healthy tips, tricks and recipes to people that are busy but health conscious. The site will be offering 3 weekly episodes featuring quick and healthy recipes, fitness tips and question and answer, whereby viewers call or email Kristine to ask about health or fitness.
On Mondays, Kristine will start the week off with her "Ask Kristine" segment. In a short, informative, one to two minute segment, Kristine will answer a question in detail that she has received from a reader or viewer.
Kristine will follow that up with her "Recipe" segment on Wednesdays. During these four to eight minute episodes, Kristine will showcase many quick and healthy recipes tailored for busy people. The recipes are all designed to use minimal ingredients, be made in little to no time, and most importantly, taste great!
On Fridays Kristine will be providing her "Fitness Tip" of the week. During these two to three minute episodes, she will be offering her tips throughout a wide range of topics within health and fitness. These tips are designed for people that are looking for any small piece of advice to help them save time and stay motivated.
Busy But Healthy™ Show (http://www.busybuthealthy.com) will also feature the personal blog of show host Kristine Fretwell, bi-monthly contests and sponsor giveaways in addition to being a destination centre for busy people that want to stay healthy.
All episodes are professionally filmed in HD quality. In addition to the site, episodes will also be available on Blip, YouTube, Vimeo, iTunes( as a free downloadable podcast), Tivo and promoted through all the social media outlets such as Twitter, Facebook etc. The show is also part of the FMG Network (http://www.fmgnetwork.com) which showcases various internet TV shows. The episodes are also formatted to be easily downloaded onto portable handheld devices.
Busy But Healthy™ is the brainchild of show host Kristine Fretwell. Being active has always been a priority for Kristine. Growing up she enjoyed dancing and numerous sports. In her adult years she's enjoyed kickboxing, weight training, pilates, yoga and group classes. Kristine has always had a passion for healthy eating which was instilled by her mother. From a young age she remembers going to their local health food store on a regular basis. She lost her mother to colon cancer in 2007, but she didn't let this tarnish her views on healthy living.
After the birth of her daughter in July 2008, she became more serious about being fit. After a lot of hard work, she entered a fitness competition only 7 months after her daughter was born and placed 4th. Two competitions later, Kristine came 1st place, earning her Pro status. With her best tips and recipes, she hopes to inspire other moms to get back into shape amongst a hectic schedule, and help people of all ages keep motivated and lead them on a path to a healthier life mentally and physically. Kristine says," I love to cook. I love to workout and stay fit. I'm also a busy mother and wife with a full-time career. I've learned so much over the years and want to share it with other people that have the same challenges that I do".
To find the recipe to a healthier life, visit http://www.busybuthealthy.com
###