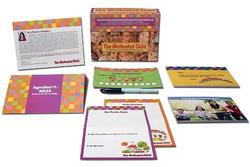 "This hands-on ready to use resource motivates and empowers children. This is a top pick on my list as a 'must have' for parents. " -Maritza Zea, Elementary School Counselor
(PRWEB) September 15, 2010
You will not find another parenting tool like it. The Motivated Child took the top award in its category for parenting aids and earned the title of 2010 Greatest Product by Creative Child Magazine. The Motivated Child won the coveted award because it takes a unique approach to child discipline. Unlike a parenting book that suggests making charts and rewards, parents will find everything they need in The Motivated Child box. Created by a teacher, the program is simple and can be implemented in less than an hour. The box includes a series of colorful charts and cards to engage children and motivate them to make good behavior choices.
The Motivated Child not only promotes good behavior, it also teaches children to set goals, builds self-esteem and draws families closer together. Children are motivated to make good choices and could track their progress on a Caught Being Good chart. Once they reach the end of the chart, they could choose from 17 fun family activities as a reward that includes everything from flying a kite together to having a family picnic.
The Motivated Child is truly unique among parenting aids. It's a simple approach tested in classrooms and homes across the country. The program is designed for children ages 3 to 11. Children with or without behavior problems could benefit from the program. The kit is $24.99 and the company is running a back to school limited time offer of free shipping and handling. The box may be small but the impact it is having on families is enormous.
###