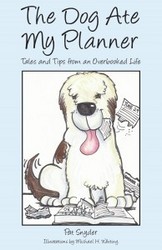 "It's amazing what dogs will eat," says Snyder. "I've heard it all."
Columbus, OH (PRWEB) September 15, 2010
Ever since her first book came out in September 2009, Columbus, Ohio humor columnist Pat Snyder has heard tales on the fly from dog owners everywhere about the weird-ities their pets have ingested.
"It's amazing what dogs will eat. I've heard it all," says the author of 'The Dog Ate My Planner: Tales and Tips from an Overbooked Life.' "So I decided It's high time I collected and shared the best of these tales."
To mark the one-year anniversary of the book's release, Snyder is inviting dog owners everywhere to share their original, previously unpublished tales of what their dogs ate, in 350 words or less. The stories may be submitted until October 15, 2010, through her website,
The grand prize winner will receive a personalized dog bowl, a copy of her book and online publication of the tale on her blog, "The Dog Journal," located on her website.
Snyder, whose "Balancing Act" column appears in 22 weekly newspapers, speaks and writes about life balance.
# # #