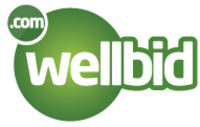 (PRWeb UK) September 14, 2010
Wellbid.com (http://www.wellbid.com), an online penny auction site that currently operates in the United Kingdom, France, Poland and Hungary, has announced plans to keep expanding internationally as it projects a bright future for penny auctions.
Penny auction sites, a relatively new development in the e-commerce marketplace, use a system of bidding that allows users to purchase high-value items at much lower prices than retail. Most Wellbid.com customers seek great deals on such high-end merchandise as laptop computers, TVs, cameras, iPods and phones. Penny auctions are meant to be fun, competitive and entertaining, which is why their users prefer entertainment shopping over traditional online auctions.
For years the eBay model, in which users increase the prices of items by declaring what they are willing to pay, has dominated online auctions. What has been missing from this model is the thrill of getting a great deal on expensive merchandise. For its part, Wellbid.com adds another dimension by allowing bidders to interact with one another. The site allows participants to battle it out during the bidding process, adding a level of excitement unmatched by any other type of online auction or shopping site.
"Wellbid.com allows users to bid on and win items, as well as connect with other users," said Martha Paluch, Costumer Loyalty Manager at Wellbid.com. "We find that auction winners are amazed at the great deal they get and the fun they have during the bidding process. We work hard to enhance the experience on the site for all of Wellbid.com users."
While past critics of penny auction systems accused early pioneers of putting profits ahead of users by making promises that could not be kept, the industry has quickly evolved and keeps on maturing. Currently, the most successful penny auction sites, including Wellbid.com, strive to educate user about auction model and deliver great costumer service by focusing on core services and developing new, useful features.
"A penny auction site like Wellbid.com is a hybrid between e-commerce and entertainment, creating an entirely new segment within the e-commerce industry," said Andrzej Belczak, President of Welmory Limited. "Because Internet users are growing in number and spending more and more in these areas, Wellbid.com has experienced significant growth and projections are very positive."
Wellbid.com is owned by Welmory Limited, a holding company registered in Cyprus. In 2009, the company received the first round of venture financing along with a valuation of 4.5 million euro.
###