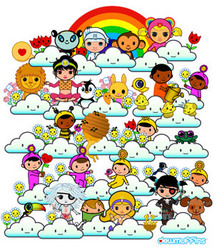 We are excited to bring the Dewmuffins to a larger audience.
Jacksonville, FL (PRWEB) September 20, 2010
Dewmuffins announced today that it has expanded into the lifestyle brand category to reach a broader audience. The Dewmuffins including all company assets and intellectual property, an extensive design portfolio including more than 50 characters, will offer apparel and other merchandise through the Dewmuffins web site and other channels. Strategies to manage and license entertainment properties and consumer brands across media and consumer platforms will also be implemented as part of the expansion.
Initiatives are underway to expand the reach of the brand with a new portfolio of characters and design-centric merchandise that will be part of the management and licensing partnership strategies. The company will also develop branding and design guidelines to help partners in their strategy efforts.
"The Dewmuffins is positioned to become one of the world's leading lifestyle properties by providing unique experiences to consumer-based markets. The timing is perfect to bring the 'happiness' message to a new audience. The Dewmuffins has established a unique message and design style that reverberates with consumers," said John Scheers, creative director, "we are excited to bring the Dewmuffins to a larger audience."
###