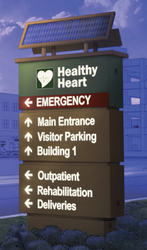 "We continue to see increased interest in the marketplace for eco-friendly offerings that meet performance criteria as well as tightening budgets," said Kelly David.
Dallas, TX (PRWEB) September 15, 2010
ASI, a company with a history of green products for architectural environments, has announced the introduction of InTac™ Eco, a durable, ADA-Ready™ signage solution created from renewable materials that can be recycled at the end of life.
The new ASI Solar Series is a solar-powered, off-grid solution that utilizes 100 percent renewable energy and LEDs to create illuminated exterior signs.
InTac Eco, the ASI Solar Series and Terra, an existing photopolymer indoor signage solution, which utilizes materials that are GREENGUARD Indoor Air Quality Certified™, are all detailed in the on the new Green section of http://www.asisignage.com, as well in the new electronic brochure titled, "Commitment to the Environment." The electronic brochure can be accessed from the green window of the website by clicking on the ASI Green Portfolio icon.
The ASI "Commitment to the Environment" brochure, which is an overview of the company's green story and its sustainable innovations, also details responsible, eco-friendly manufacturing and production processes.
"This commitment to green products and processes is part of our continuing effort to provide solutions to customer needs," said Kelly David, director of marketing and product development for ASI. "We continue to see increased interest in the marketplace for eco-friendly offerings that meet performance criteria as well as tightening budgets."
###