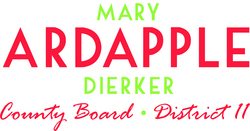 I am excited to be able to create the P.I.E. award
Peoria, IL (Vocus) September 14, 2010
The Friends of Mary Ardapple Dierker, who is a candidate for Peoria County Board representing District 11, recently announced a fundraiser and Community Advocacy Rally to promote community advocacy over political apathy.
On Wednesday, September 29th, the first Community Advocacy Rally campaign fundraiser will be held at Apple's Bakery, 8412 N. Knoxville Avenue, Peoria, from 5 – 7 PM supporting Candidate Ardapple's efforts to heighten awareness concerning the importance of voting and community involvement, to raise funds for her campaign and to establish the first annual P.I.E. (Promoting Involvement Ethically) Leadership Award scholarship. Fifty percent (50%) of all funds raised that evening will be given to the Institute for Principled Leadership at Bradley University to establish the new scholarship fund. This bipartisan institute will distribute an annual award, on Ardapple's behalf, to a Bradley female student interested in the political process and leadership. "I am excited to be able to create the P.I.E. award," stated Ardapple, who has been a conduit for progressive change in central Illinois and nationally. "This award helps us reach young women at an early age and serves to encourage them to develop a strong voice for their future communities."
There is a minimum $30 donation at the door, and attendees will enjoy beverages, including wine and beer, Hors D'oeuvres and music. Online donations may be made at http://www.ardapple.com. Ardapple hopes you will join her in this effort to redirect the thinking of as many as possible to reject political apathy and become involved in their communities, which will create a new positive mindset for the future of our County.
For more information please contact Mary Ardapple Dierker at 309-657-8722 or mary(at)ardapple(dot)com
About the Ardapple Campaign for Peoria County Board:
As a small business owner for many years, Mary has continuously adapted her business to meet changing economic conditions and customer demands. Through hard work, perseverance and a creative approach, she has made Apple's Bakery into a thriving business that focuses on quality, service and customer satisfaction.
Mary will bring these same qualities to the Peoria County Board as District 11 representative. She will use her business skills to improve public services, increase cost efficiency and treat taxpayers as customers.
Now, more than ever, government needs new leaders—leaders with a track record of success and new ideas, energy and vision to move the county forward. Mary Ardapple is a proven leader you can trust who will focus on economic growth, fiscal conservatism and quality services.
###