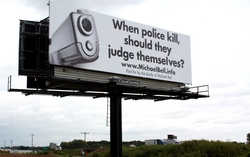 When Police Kill, should they judge themselves?
Kenosha, WI (PRWEB) September 15, 2010
The Michael E Bell family continues their campaign to change the way Wisconsin law enforcement reviews fatal police shootings. Absurdly enough, 125 year old Wisconsin statutes allow police departments to review themselves internally after one of their members fire a fatal shot. The result; there doesn't appear to be any other verdict. Each and every Wisconsin police shooting appears to have been declared justified.
On November 9, 2004, Michael E Bell (21) was stopped in front of his own house after a night of drinking. As Bell was getting out of his car, 2 officers pulled up behind him and ordered him back into his own car. Within 5 minutes Bell was shot execution style in front of his mother and sister in his own backyard. Bell was unarmed and was the 3rd of 4 men shot within 14 months by the KPD.
Within 2 days, the police cleared themselves of any wrong doing. The police claimed Bell was trying to disarm one of the 4 officers on the scene, but no DNA, finger prints or witness statements backed their version. Forgetting even the basics of investigation, the KPD ignored the autopsy forensics, crime lab reports and witnesses reports at the time of the shooting.
The family, led by retired USAF Lt Col Michael Bell, asked the county DA for an independent coroner's inquest and was denied. Bell placed full page ads in national papers (including a 1/2 page ad in the New York Times) to bring awareness to the situation. The family's pleas fell on deaf political ears so they continued the campaign by Bell sr. running for mayor (with TV commercials, newspaper ads, and radio spots) asking for change.
As a former instructor pilot for the Air Force, Bell felt that the review process must be taken out of the hands of the local police departments and into the hands of an independent firearms discharge review panel. This panel should be chaired by retired police chiefs, and active chiefs or assistant chiefs to impartially investigate shootings. The police chief of the department reviewed would not be involved in the process.
On what would have been Michael's 27th birthday (March 3, 2010), the city of Kenosha settled the Bell's federal civil rights lawsuit (Bell vs. Kenosha Police Department et al, United States District Court, Eastern District of Wisconsin CV-011-76-CNC) with what is believed to be the largest settlement on record for a Wisconsin law enforcement involved shooting. Refusing to accept a confidentiality agreement, the family is disclosing forensics, incriminating police reenactment videos and other findings to the public.
The current campaign introduces six billboards (featuring a large smoking gun with the words, "When police kill, should they judge themselves?") on major Wisconsin highways. The billboards urge commuters to visit the website http://www.MichaelBell.Info. According to traffic audit bureau statistics, 1.6 million commuters will pass the billboards weekly, with an estimated 850,000 people actually reading the signs.
Michael Bell Sr is available for interviews.
###