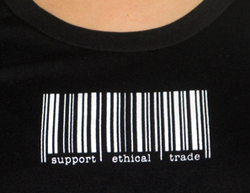 The women who made these items were once victims of sex trafficking in Kolkatta, India. They chose to work at Freeset (factory) and received education, job training, and health benefits. They are now paid a fair wage and have regained their dignity
San Francisco, CA (PRWEB) September 24, 2010
The men's and women's tees, and tote bag (pictured on the right) have a deeper message than pop-culture barcode tattoos that poke fun at our mass produced society. SET stands for Support Ethical Trade, and the design takes a stand against human trafficking, labor exploitation, and environmental destruction.
SET Boutique launched online in June to promote ethical shopping choices that do not compromise fashion. Although the site provides educational content about human trafficking and sweatshops, owner Lindsay Sullivan plans on keeping a positive, optimistic shopping experience. "No one wants to shop when they are bombarded with dismal imagery and narratives. Instead of dwelling on what we can't control, SET Boutique spreads awareness by highlighting the outstanding fair trade producers who are making a difference". She explains that the barcode is the most direct graphic that will be featured on SET Boutique, while the other clothing, bags, jewelry, and home items exhibit a subtle, chic aesthetic.
All aspects of the barcode styles are ethical; which speaks to Sullivan's 'lead by example' philosophy. The cotton is certified fair trade and organic, the factory is fair trade certified, and the garments are produced by trafficking survivors. "The women who made these items were once victims of sex trafficking in Kolkatta, India. They chose to work at Freeset (factory) and received education, job training, and health benefits. They are now paid a fair wage and have regained their dignity". To continue the support for survivors, SET Boutique will donate $5.00 per t-shirt purchase, and $1.00 per tote bag purchase to Freedom House. Freedom House is the first shelter in the San Francisco Bay area to focus solely on trafficking survivors.
Whether customers are drawn to the graphic, the organic cotton, or all the causes it supports SET Boutique hopes they will display the message proudly: "human lives are not a commodity, people are not machines, or robots, and most important- they are not for sale".
Visit http://www.SETboutique.com to learn more about fair trade, and SET Boutique's mission to end exploitation.
###