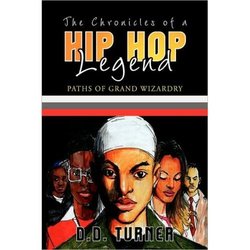 A unique and amazing literary series that uses both the tonal influence of Hip Hop and the literary genre platform of fantasy-fiction; the result is a clean, family-friendly, amazing tale that offers both excitement and magical suspense...
New York, New york (PRWEB) September 15, 2010
A young man with a passion for Hip Hop discovers an unexpected destiny as he holds the key to reawakening Hip Hop from its slumberous decline. Someone, however, stands in the way of his mission. Follow his exciting adventure in The Chronicles of a Hip Hop Legend: Paths of Grand Wizardry, an intriguing novel written by D.D. Turner.
Cris Alexander Ellison is a young man who, with great pride, overtly claims and supports the culture of Hip Hop. Little does Cris know that he has a direct genealogical link to an ancient, prophetic African tribe that is said to have sown the seeds for the Hip Hop ideal some several thousand years ago. As a result of this unique link to the past, Cris soon finds out that he is the anointed holder of an ancient mystical key; one that will release the current Hip Hop culture from its dwindling existence — and guide it back on the golden path of resurgence. Fully accepting his noble destiny, Cris sets out to fulfill the prophecy — only to encounter a major tumbling block in Roger "Feedback" Cromwell and his Hip Hop for Destruction clan.
What follows next is a pulse-pounding race for survival as Cris tries to fulfill his date with destiny — and evade certain death at the hands of a ruthless enemy. Will Cris be able to win against Roger and his destructive clan? Will Hip Hop die before Cris can awaken it? Find out in The Chronicles of a Hip Hop Legend, now available for your review and purchase online at http://www.chroniclesofahiphoplegend.com, or you may also visit a local book retailer near you.
About the Author
Born and raised in the East New York section of Brooklyn, New York, Derrick Turner became akin to the cultural explosion of Hip Hop at an early age. Formally introduced to its cultural collage of offerings by his older brother, it was an intimate relationship that he held and continues to hold in a high regard to this day. Thusly, the idea for the Chronicles of a Hip Hop Legend story was spawned from this very regard, as well as, his desire to expose his beloved Hip Hop to the magical landscape of fictional fantasy. The first installment of the Chronicles of a Hip Hop Legend story, entitled "Paths of Grand Wizardry," is sure to vividly detail a magical, action-packed, offering from the perspective of a young, B-Boy. Derrick currently resides in Texas with his wife and their three sons.
The Chronicles of a Hip Hop Legend - Paths of Grand Wizardry by D.D. Turner
Trade Paperback; $19.99; 194 pages; 978-1-4257-9693-8
To request a complimentary paperback review copy, contact the publisher at (973) 262-3956.
This book can be purchased at http://www.chroniclesofahiphoplegend.com, amazon.com and wherever books are sold.
Contact: Marilyn Montano
(973)262-3956
marilyn(at)turnerscribepublishing(dot)com
###