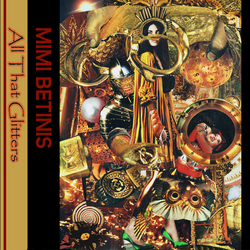 Check it out, give it a listen and Come On Down To My House!!
Chicago, IL (PRWEB) September 15, 2010
A new 10-song album by pop-rock singer-songwriter, Mimi Betinis, is set for release this September, 2010. The album, "All That Glitters," is the first comprehensive collection of music in three decades by the former founder and frontman of the legendary power-pop group from the late 1970s, Pezband. A possible tour to support the album is in the works.
"All That Glitters" will be offered for purchase in downloadable format and will also be available as a CD (with cover and liner notes) on CDBaby.com and Amazon.com. The first single from the album, "Love is a Thin Veneer" has already been released in downloadable format on CDBaby.com and Amazon.com--to strong industry and fan buzz.
"All my life I've created art and music," says Betinis, from his home in Maywood, Illinois, "I believe it is my calling--and I continue to answer the call."
Fans and music critics alike are ecstatic about the upcoming album release, the first from the singer-songwriter in three decades. "I've been a huge fan of Mimi Betinis' music since the first Pezband album back in 1977," says Larry Lange, music critic and author of the bestselling book, "The Beatles Way: Fab Wisdom For Everyday Life" (Beyond Words/Simon & Schuster). "While he didn't have mainstream success back in the day," says Lange, "Mimi Betinis is a pop-rock genius of the first order, and anything he does should be considered an important musical event. This new album is testament to that."
One longtime Betinis fan, Paul Broucek, President of Music at Warner Brothers Pictures--who has overseen the Austin Powers and Lord of the Rings soundtracks (and many others)--is delighted that Betinis is returning to music. "Mimi's first single, "Love is Just a Thin Veneer" is a great song--I'm listening to it over and over again." Broucek adds, "It makes me extremely happy to hear Mimi is making new and vital music once again."
Indeed, early hearings of the "All That Glitters" album reveal that Betinis is in true return-to-form as an elite master craftsman of the three-minute pop-rock song--certainly on songs like "Veneer" and "Romance Me." But the album also showcases Betinis' uniquely eclectic musicality which takes him beyond the constricting "power-pop" label he is perhaps best known for--especially on songs like the symphonic "Summer Rain," the Latin-tinged "Blue Sky," and the electronica dance number, "Come On Down To My House."
Produced by world-music and power-pop aficionado and record producer, Stan Skora--the album features some of the industry's top session players, such as Carla Rigolin Hassett (REO Speedwagon, Billy Idol) on lush background vocals and vocal arrangements, Doug Brush (the renowned world music percussionist) - and Chuck Soumar and Dave Stalhberg (the brass section from The Ides of March and "Vehicle" fame). Chris Massa on bass guitar and Carlo Iaccino on drums bring a palpable rhythm section to the record--while Betinis played all the guitars and keyboards, the harmonium, the harmonica, and the five-string vihuela guitar.
Betinis' vocal prowess is firmly established once again with this album. Moving beyond the Pezband-era--where he'd sung in a near-perfect cross between a raucous John Lennon and a sweet Paul McCartney as the group's lead singer--Betinis has since found his own powerfully true and natural vocal style as a solo artist for today.
Growing up in a house filled with Spanish, Greek and classical music--at 12 years old, Betinis fell in love with the groups of the mid-'60s British Invasion era. "Oh yeah--1966 was 'the year' for me. My mother took me to see the Beatles at Comiskey Park—and that same year, I saw the Yardbirds at the Civic Opera House and Jimi Hendrix too." Betinis also cites Jeff Beck, Peter Green (early Fleetwood Mac) and Mick Ronson (of David Bowie fame), as influential in germinating his own unique lead guitar style.
Critics believe that "All That Glitters" will compel a new generation of music fans to seek out Betinis' brilliant earlier work. That's significant, because Betinis' first group, Pezband--from 1977 to 1979--released three critically-acclaimed albums and two live EPs (on Passport/ABC Dunhill/Arista)--which "Rolling Stone" and "Trouser Press" cited as some of the best pop-rock records of the entire "power-pop/new wave" era.
While Betinis is proud of his legacy as a power-pop pioneer, he's always felt the tag was constricting--and set out recently to do a solo album that would showcase his wide array of musical influences, which he says range from "Mariachi to Vivaldi." Accordingly, one new song, "Blue Sky," is a Mexican-flavored number--while "Come On Down To My House" is an aggressive dance song, which Betinis chuckles about, "I don't know how I'll ever pull it off live!" Music critic Lange says that "'House' can go head-to-head with any Lady Gaga hit on the charts today."
The melancholy classical instrumental, "Summer Rain," which Betinis says is his tribute to George Martin--features a live cello and violin arrangement--and offers the artist's simple philosophy for living. "I just thought that--in life, while it does rain--the sun always comes out." Similarly, while "Love is a Just a Thin Veneer" is a driving pop-rock number with overtly catchy melodies--the lyric contains a timely message from Betinis that is extremely hopeful for today's angst-filled world.
Since he is also a fine artist, Betinis even created the compelling covers for his new single and album--and along with producer Stan Skora, designed his new website at MimiBetinis.com.
Finally, Betinis says that a possible live tour is in the works as well. In fact, he's auditioning players to accompany him--and has interest from club owners and tour managers who are longtime fans of his music.
With "All the Glitters," for the first time in three decades, Mimi Betinis is moving beyond the constricting power-pop tag to showcase his broad range of musicality. And Betinis is proud of the message of the album--which he feels is perfect for today's cynical time. "I believe that love is still the answer. Always will be."
More information on Mimi Betinis and his upcoming album "All That Glitters" can be found at MimiBetinis.com, CDBaby.com and Amazon.com.
###