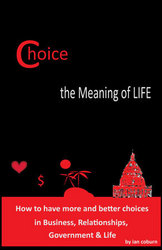 "I simply want to get the information out there where it can benefit people."
Chicago, IL (PRWEB) September 15, 2010
Comedian and bestselling author of the surprise hit God is a Woman: Dating Disasters, Ian Coburn, shares his tangible decision-making system for making good choices. Ian holds the entertainment record of 106-straight weeks touring on the road, has written three screenplays for hire, spends vast amounts of time sunning himself by playing volleyball on the beach, wrote the hit column Ask a Guy for Lifetime, consults as a relationship expert, thought leader, and business consultant, and simply leads a life to envy while maintaining his anonymity.
Choice – The Meaning of Life: How to Have More and Better Choices in Business, Relationships, Government and Life is Ian's latest book, teaching the system he uses to achieve all his success and happiness. No general tips, secrets, or fluff; simply a solid system anyone can learn and apply easily to all aspects of life. Ian provides sample applications to relationships, government, business and today's most controversial topics, including same sex marriage and terrorism.
Ian is currently offering the book as a free ebook on his site http://www.bestpossiblechoice.com, where he teaches the system on video and shares media appearances, such as this one on WGN TV Morning News:
http://www.youtube.com/watch?v=AW7i8ByNOT0
What do readers think of Ian's work? Why share quotes when some of them have been so touched by his work that they have actually got permission to produce excerpts as film? For example:
http://www.youtube.com/watch?v=L6m-QwVuzlQ
Ian is available for interview and questions. Please submit requests to iancoburn@hotmail.com or 773-726-3533. He is sharing his latest work for free because "more than ever we need a system for making good choices and I simply want to get the information out there where it can benefit people."
Website: http://www.bestpossiblechoice.com
###