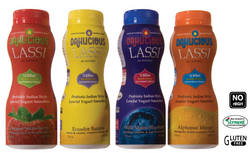 We are taking advantage of the success we have had in the Northeast and preparing the company for the next stage of growth
Tewksbury, MA (PRWEB) September 20, 2010
DAHlicious, one of the leading makers of authentic Indian lassi drinks, is expanding its distribution. Some of the key retailers to offer DAHlicious Lassi are Lunds and Byerley's (Midwest), Earth Fare (Southeast), and Whole Foods Market North Atlantic, Northeast, and Northern California regions.
"We are taking advantage of the success we have had in the Northeast and preparing the company for the next stage of growth," said JD Sethi, CEO of DAHlicious. "I am excited about meeting the market need for a delicious food that is seriously healthy," he further added.
Lassi is a smoothie made with the Indian-style yogurt and fruits. Lassi is hugely popular throughout the Indian subcontinent and is prized for its taste and healing properties. It's widely used in Ayurvedic health practices to enhance digestion and strengthen immunity.
According to the company, Indian-style yogurt is DAHlicious Lassi's key ingredient. Indian-style yogurt (called "Dahi" in India) is made using a unique combination of five active cultures that grow slowly, at lower temperature. Unlike other yogurts to which probiotics are added, the Indian-style yogurt is made with probiotic cultures and, as a result,contains a much higher number of live and active cultures.
DAHlicious is produced at a small family-owned farm in central Vermont. The farm is home to 150 grass-fed, rBST-free cows. "The fact that our processing plant is located on the farm gives us a huge advantage. The milk goes straight from the cow to yogurt vats in mere minutes — another reason our yogurt tastes so delicious. This is good for the environment as well. No energy is consumed in cooling down the milk or transporting it for processing. Sustainably produced," adds JD Sethi
DAHlicious lassi is available in a 7-oz "grab and go" container and comes in four flavors: Alphonso Mango, Ecuador Banana, Oregon Strawberry, and Wild Maine Blueberry.
DAHlicious plans to build market awareness through samplings it at retail stores, yoga studios, conferences and community events.
If you would like more information about DAHlicious Lassi, or to schedule an interview with JD Sethi, please call Michelle Johnson at 978-935-2304.
###