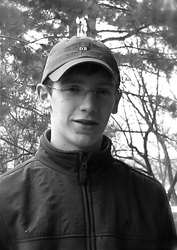 Reflections shirts are more than just stylish tees; they're powerful tools of self-empowerment and improvement
Cedar Rapids, IA (PRWEB) September 30, 2010
Fifteen-year-old Nate Marti is the designer and business owner behind newly launched Reflections Apparel.
Marti explains, "From a very young age I was enthralled with the concept of starting and running my own business." A few years ago, he attended a summer entrepreneurship course through the Jacobson Institute at the University of Iowa (http://www.jacobsoninstitute.org). The course allowed him to learn the ropes of business and try out some start-up plans against a panel of judges. He won first place for the class, and used the cash prize to launch his first business, which involved doing contracted art work in the area of home portraits (popular with homeowners and real estate agents). Marti learned a lot through this initial experience, saying, "I enjoyed the chance to share my art with people, but there was limited scalability and I hoped to be able to connect with more people in more ways."
With the goals of helping people live to their very highest calling and of being able to give back as much as possible, Marti looked to act on an idea that would work to fulfill both of those objectives – a company that came to be called Reflections Apparel. Each Reflections product bears a positive and identifying word or phrase spelled out backwards. Along with being an interesting conversation piece, these phrases, when viewed in a mirror, provide a regular confirmation of the displayed characteristic. By working to provide inspiration and affirmation of what the wearer values, the shirts go beyond a piece of apparel to be a genuine investment towards the wearer's well-being.
From his website at http://reflectyourlife.com, Marti writes, "By purchasing our shirts to wear or give, you are helping to spread The Feel Good Vibes being produced at Reflections. As a proud patron of the Reflections Collection, you are living as a testament to the value on your shirt and an example for all of those people who don't know what they're missing out on. Also, with every shirt you buy, you help us to move towards a happier and healthier world. That's because a portion of every sale is given directly to various local and international charities all over the world that are helping to bring joy to those in need."
According to Marti, the most popular styles so far are ATHLETE, BE HAPPY and BREATHE. One satisfied customer, a busy Mom to three little boys, wrote, "I just want to let you know how much I love my BREATHE t-shirt. I have had many wonderful comments from friends who think it is really neat. It always catches me by surprise when I see my reflection in a window, mirror, even my dusty car…and reminds me to breathe in all the goodness around me."
Upon the sale of his first shirts, Marti immediately began to share a portion of proceeds. He currently is partnering with the Face of America Project (http://faceofamericawps.com) to memorialize 9-11 and support a documentary highlighting America on its best day. He also is a sponsor at the upcoming Make an Impact LIVE! event in Chicago (http://makeanimpactlive.com) where his t-shirts will be available in the event bookstore.
This past year, Marti also organized a fundraiser 5K race, raising over $1150 for the Caring House Project Foundation relief work in Haiti. He writes about his philanthropic work and muses on other aspects of teen entrepreneurial life on his Life Reflections BLOG at http://www.reflectyourlife.com/reflections-blog. He is gaining a regular following for his refreshing perspective on business and life, including his weekly "Sunday Reflections".
Marti lives with his parents, two sisters, and family of pets on an apple orchard in Mount Vernon, Iowa.
About Reflections Apparel Products:
Reflections shirts are more than just stylish tees; they're powerful tools of self-empowerment and improvement. They're money in the hands of charities and organizations that can use it to help. And they're a way for us all to connect on the path to a happier, healthier, wealthier and better-looking planet.
Each item is created with the utmost care to design and quality, and constructed entirely within the United States using top-of-the-line materials. Shirts are priced at $24 apiece and backed by a 100% satisfaction guarantee, promising that "each piece will become a special part of your life." You can learn more about Reflections Apparel at http://reflectyourlife.com.
###