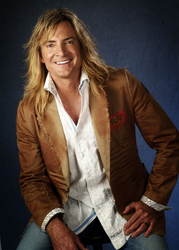 "We're extremely excited to have Frank McKinney keynote at the upcoming "Make an Impact LIVE!" event in Chicago. Frank is just an incredible human being on all levels." - Dr. Mollie Marti, Best Life Design Founder
Rosemont, IL (PRWEB) September 30, 2010
People prefer to hear from those who have actually 'walked the talk' and proven themselves to represent long-standing success.
It's apparent that Frank McKinney fits this prerequisite. Someone who looks more like a rock star than a businessman designs, finances, then creates a $23 million, 15,000+ square-foot oceanfront mansion on speculation – that means without a buyer in mind. Hoping, no believing, he will find a buyer – in this marketplace – despite most "experts" saying it couldn't be done and predicting failure.
In this economy, with the forever talk of doom and gloom, double-dip recession and the devastated real estate marketplace, has there ever been a more optimistic individual! And he is coming to the Chicago area for Make an Impact LIVE! to share his business and life lessons: http://www.makeanimpactlive.com.
Real estate "artist" Frank McKinney has been taking such risks for over 25 years, and yes, he just created then sold the largest and most opulent certified "green" home in the world at $23 million.
No small achievement by anyone's standards. Obviously McKinney knows what he is doing – not a fluke, not luck, but a real system utilizing his own strategies that have brought him immeasurable success in his career as a real estate artist.
McKinney is also known as founder of the Caring House Project Foundation, a charity that builds sustainable villages in Haiti. He's known for undertaking extreme fundraising feats. This summer he completed his 5th Badwater ultramarathon to raise funds for his charity – running 135 miles non-stop across the Death Valley dessert in temperatures exceeding 130 degrees.
This man, who never does anything like anyone else, is the keynote speaker at the upcoming Make an Impact – LIVE! event in Chicago on October 23.
McKinney is the author of 5 best-selling books, including The Tap, outlining the power of dovetailing your highest professional calling with your highest spiritual calling, and his timely Burst This! Frank McKinney's Bubble-Proof Real Estate Strategies outlining his innate business and real estate savvy and proven methods.
By riding the ups and downs of this highly volatile market and using his own financial and investment strategies, he shows how to avoid getting caught up in the roller-coaster of boom and bust times that are nothing more than recurring market cycles. His books give everyone, from first-time home buyers to seasoned real estate deal-makers, their best chance ever of succeeding by showing what he does versus what everyone else does.
McKinney has been hailed by Donald Trump for his 'groundbreaking deals and rock star look' and dubbed the 'real estate rock czar' by the Wall Street Journal – marks of a personal style that continues to mystify the media who can't quite figure out how this man constantly comes out on top by doing things that most believe should not work!
This one-of-a kind, real estate frontman has appeared on Oprah, 20/20, CBS Evening News and USA Today And now he's sharing his magic at Make an Impact – LIVE! for anyone wanting to be inspired by and learn from the phenomenal success that he has enjoyed for many years.
Those attending McKinney's talk will have the opportunity to bid on a dinner with him and the event host, Dr. Mollie Marti, with all proceeds going to the Caring House Project Foundation charity. Check out more details about this amazingly intuitive and contrary businessman and register to attend his event at http://www.makeanimpactlive.com.
###