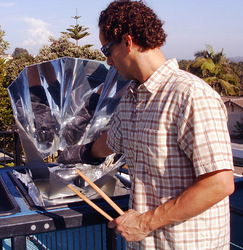 Interest in the solar industry is cooking, and consumers across the nation are eager to sample its wares, which bring enticing tax credits, cash rebates, improved property values and cleaner communities to home and business owners across America
Boulder, CO (Vocus) September 14, 2010
With 648 community solar tours registered to date, momentum is building to make the 2010 American Solar Energy Society National Solar Tour the most successful grassroots solar event in history, engaging tens of thousands of solar-interested citizens across 48 states. The 648 tours featured in this year's National Solar Tour is nearly triple the number of tours featured in 2009, and more communities continue to join the movement each week. Last year, 150,000 people across 49 U.S. states, Washington, D.C. and Puerto Rico participated.
The 15th Annual American Solar Energy Society (ASES) National Solar Tour features open house tours of thousands of solar-powered homes, businesses, and public agencies. It's neighbors introducing solar-hungry neighbors to the technologies they are using to 1) slash monthly energy bills, 2) reduce environmentally harmful carbon emissions, 3) assert their energy independence and 4) enjoy rich tax credits and cash incentives as they improve their property values.
Among the menu of solar solutions showcased in this year's National Solar Tour are investments that have helped a couple beat Wall Street with their green ROI, an Iraqi war veteran now fighting in the renewable revolution, solar-powered homes, schools, public agencies, condo complexes -- and businesses that run the gamut from solar-powered poultry farms to funeral homes.
"Interest in the solar industry is cooking, and consumers across the nation are eager to sample its wares, which bring enticing tax credits, cash rebates, improved property values and cleaner communities to home and business owners across America," said ASES National Solar Tour Manager Richard Burns.
Forty eight states and Washington, D.C. are now represented on this year's tour, which affords citizens the opportunity to tour solar-powered homes and businesses from Alaska to Florida. The bulk of the tours take place on or about October 2, 2010. The two states missing in action are North Dakota and West Virginia. Word of the tour's inherent value in educating the public on energy issues has transcended international borders. This year, Mexico and the U.S. Virgin Islands are hosting their first solar tours and Puerto Rico is back for its fourth island-wide tour.
Burns says as technologies have evolved, so have the diversity and sophistication of the solutions showcased on the tour. But it is the practical, grassroots approach of the people behind the tours that have made this event such a hit across America. The self-guided and bus-hosted tours are organized by grassroots organizations and solar installers throughout the country. Many tours are free; some tour hosts are non-profits and may request a donation.
Stories and solutions featured in the ASES National Solar Tour's 2010 line-up for America include:
ALASKA: Going Solar Rogue in Oil-Rich Alaska
If sticking with traditional fossil fuel-fed energy sources is the norm, hundreds of Alaskans are going rogue over the benefits of clean, renewable solar and wind technologies. Inaugural solar tour organizer Dr. Phil St. John says it is solar's value as an independent, cost-cutting energy source that attracts many Alaskan tour participants.
"Things – including electricity -- are expensive in rural Alaska," noted Chet Chambers, Sustainable Energy Technician for the University of Alaska, Fairbanks, Bristol Bay Campus. "Nearly everything is shipped in – except moose and salmon. We're promoting energy efficiency in tandem with renewable energy solutions like solar PV, solar thermal and wind as sound alternatives to expensive fossil fuels," he said.
Through the efforts of people like St. John and Chambers, Alaskans are proving more and more that solar technology is viable even when you can see Russia from your house.
MISSOURI: Iraqi Veteran Abandons War for Oil to Fight in Renewable Revolution
Two months after 9-11, the largest attack on domestic soil this generation has seen, Jeffrey Owens enlisted in the U.S. Army. "I wasn't looking for a career, I just wanted to serve," he recalls.
After two tours in Iraq, the war veteran has embarked upon his third tour of duty. Owens' post-Iraq mission is three-fold. His new mission is still a means to serve the country -- and his new enemy remains an insidious threat. Jeffrey Owens is battling America's dangerous dependence on fossil fuels. He has joined the renewable revolution.
"One thing I learned overseas is how fortunate we are here in the United States," notes Owens. "But in many respects, we are still pretty insulated from the harsh realities of the rest of the world. We have one of the finest qualities of life on this planet. We have freedoms that others only dream about. We have readily available electricity to power our homes and businesses, but we're not acting responsibly," he said.
As we honor the troops coming home from Iraq, read Jeffrey Owen's insights from Iraq and learn about his role as Executive Director of Show Me Solar, where he is organizing solar tours in the communities of St. Louis and Columbia.
MISSISSIPPI: "Down on the Farm Solar" Feeds Energy-Hungry Poultry Farms
With the exception of Florida, the appetite for solar in America's southeast is thin. Mississippi Solar's Carolyn and Will Hegman are trying to change that. And they're doing it one chicken house at a time.
"Poultry farming is an energy-intensive business. Enormous tunnel fans are required to ventilate chicken houses. Lighting requirements add to the cost. There are close to 8,000 poultry farms in the State of Mississippi. If we were able to solarize all those businesses, we could offset a full ten percent of the state's energy needs," said Will.
This October 2, the Hegman's are hosting their second Annual "Down on the Farm" solar tour, which features an impressive assortment of solar solutions, including a 2.4 kW EV-ready solar carport, the Hunt-Winston Solar Car Challenge-winning solar race car, a ground-mount installation with battery back-up and an 8.4 kW solar PV solution on a chicken house at Spencer Pope Farms.
The folks at Spencer Pope Farms have been so satisfied with the results, they're looking to quadruple the solar capacity powering their chicken houses. "Solar can really change the life of a poultry farmer, who has astronomical electric bills, particularly in these hot Mississippi summers," Carolyn Hegman noted. Coupled with the federal tax credits of up to 30% for going solar, that's no chicken feed.
CALIFORNIA: Early-Adopter San Diegans Employing Solar PV to Drive Electric Vehicles (EV) for Free
San Diego solar tour host Jeanie Anderson likes to put a plug in for solar wherever possible. Now the engineer and self-described solar evangelist will be using solar energy as a means to put an energizing plug into her new electric vehicle, the Nissan LEAF. Anderson's LEAF – anticipated to bring her a new fuel bill windfall in the new year -- will be one of the first on American streets in 2011.
"When I sized a solar PV system for my home back in 2005, I scaled it up to fit what energy demands I would need for my theoretical electric car. The solar energy I'm generating means I never have to think about my electric bill again," she said. And the additional kilowatt hours (kWh) she's generating with her rooftop solar have been so effective, she says once her LEAF arrives, the energy credits she produces during peak daytime hours will allow her to charge her LEAF for free. "On sunny summer days like today, I can generate a juicy 24 kWh. How many LEAF miles is that? Exactly 100 miles, the range of this remarkable vehicle! I'll never have to visit a gas station again," she exclaimed.
Take a virtual tour of Anderson's home to enjoy an appetizing array of insights to optimize the benefits of today's sustainable solar lifestyle.
NEW JERSEY: The Spirit of Solar is Alive & Well at Solar-Powered Funeral Home
The spirit of solar is alive and well at Prout's Funeral Home in Verona, N.J. And it's manifested not only in the 25.6 kW of solar energy third-generation proprietor Robert Prout employs to power his home and offices, but in 1) The classes he regularly holds to teach future generations about the benefits of sustainable energy, 2) The way he's incorporated his love of ecology into his business for green funerals and natural burials, 3) The hurdles he's cleared to creatively introduce his second solar PV system, despite rigorous opposition and 4) His willingness to open his doors to those attending the American Solar Energy Society's National Solar Tour.
MASSACHUSETTS: Boston Couple "Beats the Street" (Wall Street) with Green Home Investments
Newbury, Massachusetts residents LuAnn Kuder and Maureen O'Brien have found a way to "Beat the Street" (Wall Street that is) with the returns they're realizing on their green investments. While their Wall Street investments have tanked 9.6% over the course of the past forty eight months, the $62,000 the women have invested in green home improvements are bringing them a savory 7.4% per year for a whopping 29.6% return over the past four years.
"Our solar and geothermal investments are giving us more for our money than anything we have in the bank – or in the market," said 61-year-old Maureen, a former H&R Block franchisee and financial consultant. "We feel like we're locked into a really nice utility rate for the next 20 years, regardless of what goes on in the rest of the economy – or the world, for that matter," she said.
"The National Solar Tour is a practical way for those enjoying the benefits of solar to showcase the innovative technologies they're using to harness the sun's energy, while demonstrating to neighbors how solar works, how it's installed and how beautiful today's solutions can be. The tour also offers essentials on how to realize big tax credits while supporting local small businesses -- like the hundreds of distributors and installers SANYO and its distribution partner and fellow tour sponsors Conergy support across the U.S.," said Anna Lickova, Solar Marketing Specialist for SANYO's U.S. Energy System Solutions Division.
Added ASES' Burns, "Interest in solar is cooking because our industry addresses a veritable banquet of issues plaguing America. And it's something individuals, governments and small businesses can readily embrace. Energy independence, lower energy costs and tax breaks mean more economic power to the people and cleaner communities. Now that's some appetizing food for thought."
ABOUT THE AMERICAN SOLAR ENERGY SOCIETY: Established in 1954, the nonprofit American Solar Energy Society (ASES) is the nation's leading association of solar professionals and grassroots advocates. Supported by more than 12,000 members, ASES advances research, education, and policy. ASES publishes the award-winning SOLAR TODAY magazine, presents the National Solar Conference, rallies citizens to build a Solar Nation, and leads the National Solar Tour – the world's largest grassroots solar event. http://www.ases.org.
Contact:
Terri Steele for
ASES National Solar Tour
(858) 220-3317 (mobile)
SolarSavvy(at)cox(dot)net
# # #