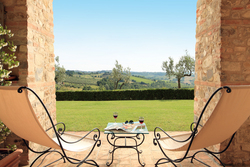 The desire to own an eco-friendly home in Tuscany can now be fulfilled at a fraction of the usual cost and with peace of mind
(PRWeb UK) September 14, 2010
Tommaso Zanzotto, President of Toscana Ville & Castelli, has teamed up with King Sturge Hotels and Leisure to project manage the set up, implementation and execution of Villa Bossi Pucci, a fractional real estate project just outside Florence in Tuscany, Italy.
The project is presented this week at Fractional Life Expo 2010 which takes place at Broadgate Event Venues in the City of London, 13 - 15th September 2010.
The project incorporates an innovative 'Residence Club ownership' which provides the vacation experience and benefits of real estate ownership while dramatically reducing the responsibilities and financial burdens associated with traditional ownership; one, two and three bedroom club ownerships range from €50,000 to €105,000.
Mr. Zanzotto said: "Villa Bossi Pucci enjoys great views from the hill top of Montagnana. Its location makes it ideal for the pristine countryside and fascinating sightseeing opportunities that Tuscany offers, being just 30 minutes from Florence, midway to Siena, in the heart of Chianti" adding "The desire to own an eco-friendly home in Tuscany can now be fulfilled at a fraction of the usual cost and with peace of mind".
Other features include: ownership in perpetuity; unlimited use; full concierge services; pre-arrival grocery shopping; send unaccompanied friends and family; onsite owner's storage; together with the added value of access to exceptional ski, beach and golf destinations around the world through the exchange program.
Fractional specialist Peter Kempf International is conducting the Sales and Promotional activity of the Villa Bossi Pucci Residence Club.
For further information go to http://www.villabossipucci.com or http://www.fractionallifeexpo.com
Notes to Editor:
Follow King Sturge on twitter: twitter.com/kingsturge
King Sturge is one of the largest international property consultancies in Europe with 42 owned offices in 14 European countries, forming part of a network of over 215 wholly owned, associated and affiliated offices in 47 countries worldwide. Over 3,800 staff throughout these offices cover all property sectors and specialisms including plant and machinery, and residential.
In Europe, King Sturge operates in the major UK commercial centres and principal mainland European cities. In Asia Pacific, the firm has associations in Australia, Indonesia, Malaysia and New Zealand. In the Americas, King Sturge has business partners in North, Central and South America through King Sturge CORFAC International and ChainLinks Retail Advisors.
Through a joint venture with a wealth manager, King Sturge now has a presence in the Middle East. The office will initially be based in Dubai, concentrating on states in the Gulf Corporation Council: Bahrain, Kuwait, Oman, Qatar, Saudi Arabia and the United Arab Emirates.
For further information please contact:
Michala Holm, Hotels & Leisure Senior Associate +44 (0)20 7087 5919
Peter Gee, Hotels & Leisure Partner, London +44 (0)20 7087 5911
Peter Kempf, President and CEO, Peter Kempf International +39 366 357 4444
NEWS RELEASE: NR 367
###