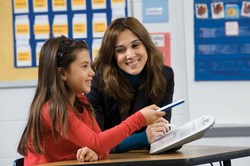 "The contest was a wonderful opportunity for my class, our school, and our community to come together and rally around a great group of students and get excited about using technology." - 2009 Winner
Denton, TX (PRWEB) September 15, 2010
eInstruction, a leading education technology company, today announced the judging panel for its fourth annual Classroom Makeover Video Contest. The group, which includes recognized leaders in the fields of education and technology, will choose three classrooms to win interactive classroom makeovers with prize packages ranging from $63,000 to more than $78,000. For consideration, videos must be submitted to the official contest website, no later than 11:59 p.m. on November 2, 2010.
Members of the 2010 Classroom Makeover judging panel are:
Steven W. Anderson
#EdChat Co-Creator and Instructional Technologist at Clemmons Middle School in North Carolina. Named one of the most influential social networkers in the education industry, Steven has emerged as an education technology leader with the creation of #EdChat, a Twitter-based education discussion that draws more than 1,000 participants each week. In 2009, he was voted the Most Influential Tweeter as part of the Annual Edublog awards and was a co-recipient of the Most Influential Series of Tweets for his part in helping to create #edchat.
Mario Armstrong
Technology journalist and Founder of the education technology site TechTechBoom! Mario appears regularly on CNN, CNBC, NPR's Morning Edition and PBS to discuss how technology impacts society and business. He also hosts and syndicates his own radio technology talk shows on XM/Sirius Radio, USTalkNetwork.com, WYPR and WEAA. He hired 11 teenagers to develop, design, market and manage an online social network, TechTechBoom.com, to help develop the next generation of digital scientists and activists.
Nicole Johnson
Miss California USA 2010. While studying at the University of California, Nicole tutored middle school students in the subjects of math and science and helped her mother, a science teacher, in the classroom. She continues to tutor when her schedule permits and hopes to substitute teach in her spare time this year.
Sylvia Martinez
As President of Generation YES, Sylvia is a prominent speaker at national education technology conferences in areas ranging from the use of the Internet in schools, Web 2.0 technologies, student leadership, digital citizenship, project-based and inquiry-based learning with technology and gender issues in science, math, engineering and technology (STEM) education. She is a veteran of the education technology industry. Among her achievements is the development of Math.com, an award-winning web site providing math assistance to students around the world.
Davina Reeves
Miss New York USA 2010. In addition to her duties as Miss New York USA, Davina loves working with kids and often visits schools to host various creativity and healthy lifestyle workshops.
Ken Royal
Scholastic Administrator Senior Technology Editor and Director of the Educators' Royal Treatment. A 34-year veteran teacher and education technology author, Ken is widely recognized as a leading authority on education technology issues. His blog provides educators from around the world the opportunity to share best practices and address challenges they face in the classroom. Ken is a four-time district teacher of the year, Connecticut Middle School Teacher of the Year, and is a recipient of the Bill and Melinda Gates award for Technology School of Excellence.
Derek Wenmoth
Director of eLearning CORE Education Ltd, a not-for-profit educational research and development organization based in Christchurch, New Zealand. He has a broad background in education, with experience at the primary and secondary school level, and as principal lecturer at the Christchurch College of Education. Derek is a regular speaker at conferences and seminars, and maintains a regular blog where he shares his ideas and thinking across a range of areas relating to the use of ICT in teaching and learning
Classes in the U.S., Canada (excluding Quebec), South Africa, the United Kingdom, Australia, New Zealand and Puerto Rico are invited to submit short, creative music videos demonstrating how they would use technology to enhance their learning experience in the classroom. On November 9, 2010, five finalists in each of three grade categories (Kindergarten through fifth grade; sixth grade through eighth grade; and ninth grade through twelfth grade) will be selected and the public will be welcomed and encouraged to vote for the best submissions through November 29. One grand prize winner will be announced for each grade category on or around December 9, 2010.
Videos will be judged based on effective use of technology, portrayal of teachers and students working together, and overall creativity and spirit. Winners will receive a suite of products from eInstruction and classroom technology from partner companies Reading Plus, Nectar Foundation, American Education Corporation, Knowledge Adventures, Incredible Kid, Calypso Systems, Panasonic, Evan-Moor, Math Forum @ Drexel, netTrekker Search, Dell, Daydream Education, Scholastic, Monarch Teaching Technologies, StarrMatica, FableVision, School Specialty, Nasco and Inspiration.
Prizes will vary based on the grade level of the winning classrooms. The complete eInstruction Classroom Makeover is valued at just over $200,000. In addition to the classroom technology, eInstruction will provide funds for a celebratory party for each of the winning schools.
For complete rules and guidelines for participating in the eInstruction Classroom Makeover Video Contest, visit http://2010classroommakeover.shycast.com/.
You can also follow the 2010 Classroom Makeover contest on Facebook and Twitter.
About eInstruction™
eInstruction is a leading education technology company dedicated to providing interactive teaching and learning technology and services that help educators drive academic progress every day, and give administrators the ability to monitor, aggregate, and analyze student performance data. The company offers educators and administrators a family of software, student response systems, interactive whiteboards, wireless interactive tablets, and powerful enterprise-based administrator tools.
eInstruction's research-based solutions have been shown to increase student engagement and achievement while providing real-time feedback and performance data to educators and administrators.
Millions of students, teachers, and professors use eInstruction® technology in 500,000 K-12 classrooms and more than 1,000 higher education institutions around the world. Available in more than 40 languages, eInstruction® technology is enhancing education in over 90 countries worldwide.
eInstruction has offices in Denton, TX; Columbia, MD; Scottsdale, AZ; Cincinnati, OH; and Paris, France.
To learn more about eInstruction, please visit http://www.einstruction.com. For media inquiries, please contact Julie McKinney at Stanton Communications at (410) 727-6855 or jmckinney(at)stantoncomm(dot)com.
###