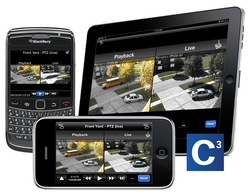 "This feature will change the way the world views their visual assets.
Lisle, IL (PRWEB) September 16, 2010
Lextech Labs has launched the groundbreaking LeX-Ray Vision feature for their C3 video surveillance solution. This new feature renders the company's C3 solution as truly one of a kind as it allows the end user to view both live video and recorded view on a split screen. Investigations using recoded video can now be done through a mobile device, allowing personnel to move closer to the scene, away from a desk and a monitor for more effective decision-making.
Recently, the company launched the C3 video surveillance client for the Blackberry client. This award winning solution now supports the web, iPhone, iPad, iPod Touch and Blackberry devices.
"This added feature to the C3 video surveillance solution is revolutionary in the industry. For the first time ever, when managing critical live events, a user can continuously view live video while easily sorting through recorded video, never missing a moment of the live feed," said CEO Alex Bratton. "This feature will change the way the world views their visual assets."
Features of C3
LeX-Ray Vision: View recorded video while continuing to watch live video through a split screen format, never missing a critical moment.
Time Sync Between Views: Easily capture the same event from multiple cameras.
Easy to Use: Mobile interface and web-based administration is flexible and intuitive.
Multiple Platform: Consistent interface across the web, iPhone, iPad, iPod and Blackberry devices to view up to 20 live feeds (device dependent).
Optimized Video Delivery: Ensure immediate delivery of video no matter where you are.
Mobile Investigations: Quick identification of events, immediate playback, rewind, forward and slow motion your recorded video.
Share Critical Video: Share critical video events real time with the proper authorities.
Lextech Labs, based in Lisle, IL, is a provider of mobile solutions allowing video to be instantly delivered to mobile devices. The company was a winner in the Best New Technology Product of the Year category of the 2010 Edison Awards. Lextech Labs' products include the C3 application for Apple and Blackberry platforms and computer web browsers. The company's customers include federal agencies, law enforcement, universities and convention centers.
###