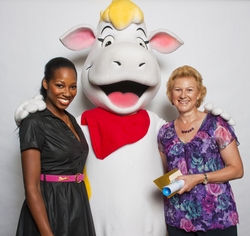 (PRWeb UK) September 14, 2010
A survey by Munch Bunch® revealed that one in 10 parents in the UK have not read to their child for at least six months blaming household chores (35%), cooking dinner (31%) and long office hours (21%) for getting in the way of spending quality time with their children. However, eight in 10 believe reading books will help their child become a well-rounded individual.
The Munch Time Storytelling Competition encourages parents to spend more quality time with their children and urges families to enjoy some storytelling time together. 10 regional winners were also chosen by the judges panel of children – who better to judge. They won the chance to meet Jamelia and receive their cash prizes of £500. To read all of the winning stories visit http://www.munchbunch.co.uk.
Jamelia says "As a mum, I know how important storytelling is to develop reading, writing and creative skills, which is why I fully support the Munch Time campaign. I thoroughly enjoyed judging this year's Munch Time Storytelling Competition entries. The calibre of the stories was fantastic and it was so difficult to choose the best."
As the 'National Winner', Karen won a cash prize of £1,000 and an all expenses paid trip to London to receive her winner's certificate from Jamelia. Her story 'Munch Goes on Holiday' is to be published as a book for families around the UK to read. Karen's story is available on the Munch Bunch® website http://www.munchbunch.co.uk
Karen says of her win: "I am so thrilled to have won this competition, and had to read the email informing me I was the national winner several times before I was able to really take it in. I just couldn't believe it! I loved reading to my children when they were small, and having recently become a grandparent, wanted to write my own stories to read to my granddaughter. Seeing the Munch Bunch® storytelling competition, was just the incentive I needed to get started. It is an amazing and exciting turn of events to think that what started out as a story written for the fun of it will now be illustrated and published as a book."
According to a Munch Bunch® survey conducted earlier this year, the best children's bedtime story of all time is The Very Hungry Caterpillar.
Go to http://www.munchbunch.co.uk to read and print off the 11 winning stories for free.
###