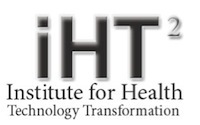 Mobile technology moves so fast, and now is the time for doctors to bring this amazing evolution into the exam rooms with them
New York, NY (Vocus) September 16, 2010
The Institute for Health Technology Transformation announced today that DrChrono.com will be presenting at the Institute's Health Technology Investment Forum. The Forum is taking place September 21, 2010 in New York City at the Westin New York at Times Square.
Michael Nusimow, CEO & co-founder, DrChrono.com will be presenting and discussing the benefits of mobile technology, and where DrChrono.com fits in the marketplace.
"Mobile technology moves so fast, and now is the time for doctors to bring this amazing evolution into the exam rooms with them," said Michael Nusimow, CEO and Co-Founder, DrChrono.com. "A desktop or laptop-based EMR system alone will not provide the right mix of convenience and meaningful use. At iHT2 conference, DrChrono.com will show health care professionals how to maintain the same patients-doctor interaction, while still demonstrating meaningful use. And it starts with a little thing known as: the iPad!"
Presenting and participating organizations include: AccessGranted, EDIMS, DrChrono.com, DrFirst, Intelligent Medical Objects, MMRGlobal, Inc., Phreesia, Sonnenschein Venture Technology, Teladoc, Telemedicine Solutions, Healthcare Finance News, HCPEA, HedgeCO.Net, Mergermarket, NYHIMA, NASVF, Private Equity Insdier, PharmaVOICE, VC Gate, UVANY, VentureBeat, VC Experts.com, and WITI.
The Forum's attendees will include – private equity firms, institutional investors, venture capital firms, private investors, analysts, healthcare IT companies, medical device companies, corporate investors, commercial brokers, investment bankers, law firms, and strategic advisory firms.
The 5th Health Technology Investment Forum is a one-day forum that provides an opportunity for investors and healthcare leaders to discover the latest trends and investment opportunities in the healthcare information technology sector. Participants will have the opportunity to hear from both public and private high growth companies, gaining unparalleled investment insight to some of the fastest growing healthcare technology providers.
About DrChrono.com
DrChrono.com addresses the complexities and critical needs of today's healthcare environment by providing a two point solution, mobile health point-of-care apps plus access to our web based Electronic Health Record platform. We build what physicians need on the go. Our mission is to give physicians, medical groups and clinics A Path to the Future. DrChrono.com is a dynamic medical company that provides the core EHR /EMR, scheduling, patient reminders and billing system that every practice needs. Giving ePrescribing, patient onboarding pads and more. Our services enable healthcare providers to have a choice of the applications, technology and back office resources they need without the expense and complexity of hospital level systems. Our goal is to give health professionals an all in one solution. http://www.drchrono.com
About the Institute for Health Technology Transformation
The Institute for Health Technology Transformation is the leading organization committed to bringing together private and public sector leaders fostering the growth and meaningful use of technology across the healthcare industry. Through collaborative efforts the Institute provides programs that drive innovation, educate, and provide a critical understanding of how technology applications, solutions and devices can improve the quality, safety and efficiency of healthcare.
http://www.ihealthtran.com
###