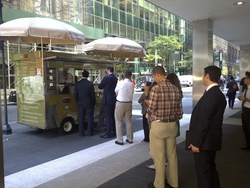 GustOrganics, the first certified organic restaurant in New York, today announced the launch of Organic Carts NYC, an organic street cart offering organic food on the go to New Yorkers
New York, NY (PRWEB) September 15, 2010
GustOrganics, the first certified organic restaurant in New York, today announced the launch of Organic Carts NYC, an organic street cart offering organic food on the go to New Yorkers. Organic Carts NYC is the first certified organic street cart of its kind.
The first prototype cart is located on 53rd street and Park Avenue, Manhattan; operated under Organic Carts NYC and uses solar panel technology, biodegradable packaging and other eco-friendly practices.
Organic lunch for under $10 tax included is now possible on Organic Carts NYC and the menu includes tenderloin, chicken and vegetables fajitas grilled to order, salads, soups, quinoa, hummus and empanadas. No bottled drinks are served and super purified NYC water is served on biocompostable cups.
The cart is also equipped with an orange juice machine, so freshly squeeze orange juice is made to order.
If the community embraces the concept, the company's plan is to bring more carts to more locations throughout NYC.
In fact, Organic Carts NYC aims to take over many of the existing NYC food carts currently serving conventional, processed and packaged food and transform them into something better--providing only certified organic food and using truly green practices.
GustOrganics restaurant, located on 519 6th avenue in Manhattan, provides all the organic food and drinks that are prepared daily and exclusively for the cart.
GustOrganics is the first restaurant ever to use 100% certified organic ingredients and one of greenest and most progressive restaurants on the planet.GustOrganics sources its products from a variety of local and organic growers who share the same values and the highest standards of certification.
GustOrganics is certified organic by NOFA-NY certified Organic according to the USDA/NOP and certified Green by the Green Restaurant Association and The big Green G. GustOrganics motto is: "Changing the world one meal at a time."
"At GustOrganics we take food very seriously," says Alberto Gonzalez, CEO and founder. "For us, food is love and as a way to love others, we only use organic ingredients, renewable resources and environmentally sensitive practices."
"I always envisioned bringing organics and sustainability into the mainstream and that is exactly what we are doing with Organic Carts NYC! I am a firm believer that keeping synthetic hormones, antibiotics, chemicals and GMO's away from people and using resources that are truly in harmony with the environment anything is possible" says Gonzalez.
For Media inquires please contact Alberto Gonzalez
ag(at)gustorganics(dot)com
646 772 4205
###