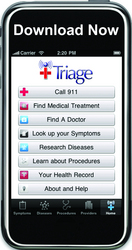 We are proud to be one of the few companies exploring Dr. Iliff's ideas for the benefit of the world's population
Lakewood, CO (Vocus) September 20, 2010
Healthagen® today announced the licensing of the "First Opinion" patent portfolio from Healthways, Inc. (NASDAQ: HWAY) as part of a broader business relationship between the companies. The patent portfolio includes 27 U.S. patents, 37 international patents, and multiple provisional patent applications. Healthways acquired the patents in 2007 from First Opinion, a company formed by inventor Dr. Edwin Iliff, an emergency physician and inventor who developed technology and intellectual property around a vision to change the world through automated diagnostic technology.
"We are proud to be one of the few companies exploring Dr. Iliff's ideas for the benefit of the world's population," explained Peter Hudson, M.D., CEO of Healthagen. "Healthways is the leading provider of specialized, comprehensive solutions to help millions of people maintain or improve their health and well-being, and we are excited to partner for the development of unique applications focused on the direct-to-consumer market."
Healthagen anticipates using this unique intellectual property technology to further expand its healthcare technology provided to the marketplace for both the mobile space and Web. Healthagen products include:

iTriage® -- a direct-to-consumer smartphone and web-based platform
iTriage Widget – a content licensing product
iTriage Content - API-based products for websites and product integration
All of the above products are covered under this broad patent portfolio.
The iTriage platform helps healthcare consumers by de-mystifying the relationships between symptoms, conditions, procedures, and the broad range of medical resources found in the hospital, urgent care, retail clinic, physician, and pharmacy network across the U.S. By doing so, people access the healthcare system more effectively, leading to better quality, cost effectiveness, and time savings.
"The world is evolving quickly and a shortage of physicians exist in every country of the world. People around the world experience bad outcomes everyday, not only because of the lack of access to healthcare professionals, but due to a lack of relevant information about the symptoms they are experiencing. Technology that provides the tools for consumers to navigate through the complexities of medical symptoms and conditions will save lives and lead to more education about health in general," said Hudson. "We aim to put products into patient's hands that will ultimately help change the way healthcare is delivered globally, making the consumer a more active participant in their own care."
iTriage has grown exponentially over the last twelve months and is now being used millions of times annually by healthcare consumers worldwide to become educated about their own healthcare, and make decisions about treatment options, medical providers, and care options.
About Healthagen
Healthagen, a privately held company headquartered in Lakewood, CO, is a global developer of healthcare information software that empowers patients to make better decisions. Co-founded by two practicing emergency physicians, Drs. Peter Hudson and Wayne Guerra, the company's flagship Web and mobile product iTriage has been downloaded and used millions of times by healthcare consumers around the globe, generating tens of millions of medical searches and self-assessments. In addition, hundreds of medical providers and thousands of physicians have partnered with iTriage to provide patients with critical information about their facilities and medical practices, making it more efficient for patients to access the healthcare system. For more information about Healthagen and iTriage, please visit http://www.Healthagen.com.
###