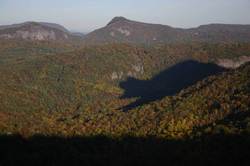 Because of our high altitude, peak leaf season starts in mid-October and continues through the first week of November. During this time, the forests are ablaze with rich reds, purples, oranges, and gold's
Miramar Beach, FL (Vocus) September 15, 2010
Rich reds, purples, oranges and golds of the changing autumn leaves are the perfect backdrop for a fall getaway at High Hampton Inn. Located on 1,400 acres surrounded by waterfalls, mountain peaks and wildflowers, High Hampton Inn is a top spot for observing nature's seamless transition from summer to autumn this year. Guests are encouraged to take advantage of this fall's Fall into High Hampton Inn Package featuring a $150 gift certificate with any three-night stay or longer. Visitors may use the resort certificate toward a game of golf, a spa treatment or apply it directly to the bill upon check out. This offer is valid Sundays through Thursdays only, and excludes holidays. The package is available now through October 30, and offers a unique opportunity for those in search of tranquility, natural beauty and a healthy dose of crisp mountain air this fall. For additional information about the package or the resort, please visit http://highhamptoninn.com/
Located 3,600 feet above sea level in the Blue Ridge Mountains, this historic resort has served as a mountain oasis for more than 80 years, contrasting sharply to the technology-driven, fast-paced world so many of its guests seek to escape. In addition to the Inn's stunning natural surroundings of bold rock faces and shimmering lakes and streams, guests may enjoy a number of outdoor activities. Whether hiking on the miles of trails that spread out from the Inn, golfing on the scenic course designed by George W. Cobb, or making a statement in a round-robin of tennis, guests can count on stunning autumn views as the backdrop for all outdoor activities.
"Because of our high altitude, peak leaf season starts in mid-October and continues through the first week of November. During this time, the forests are ablaze with rich reds, purples, oranges, and gold's," said Clifford Meads, General Manager of High Hampton Inn.
Throughout the fall, guests can enjoy a series of exciting including house parties and the annual wildflower workshop. High Hampton will be hosting it's Party on Saturday, October 16 from noon - 4:30p.m. There will be a special menu of authentic German cuisine, along with award-winning beers from the Heinzelmaennchen Brewing Company. Throughout the afternoon, the Atlanta Polka Band and the Euro Volk Dancers, dressed in traditional Oktoberfest costume, will be entertaining on stage on the side lawn. For more information, click here
High Hampton Inn will be hosting its annual Wildflower Workshop, from October 3-5, is the perfect opportunity to witness the fall foliage and unique species of wallflowers with guides and lectures from experts at the North Carolina Botanical Garden. This event is a great way to kick off the beginning of the fall season. For more information, click here
High Hampton is the perfect spot for guests looking to find a not to be missed natural phenomenon known as the "Bear Shadow," which appears during the last two weeks of October when the sun sets behind Whiteside Mountain (between Cashiers and Highlands). The shadow creates a perfect image of a black bear that dances across the tops of the colorful trees. The best place to view the ethereal bear is along U.S. Highway 64 in Cashiers, about one hour before dark.
"The Bear Shadow is something that can only be seen in the Cashiers area, and it is a unique sight that will be remembered for a lifetime," said Meads.
Hot cider beside a roaring fire and traditional Southern dining are just a few of High Hampton's distinguished amenities, all of which are sure to satisfy visitors after a day of adventure among autumn's rewarding sites. Visitors who are looking for an ultimate oasis can enjoy yoga sessions or luxurious treatments at the Inn's full-service spa.
The historic High Hampton Inn & Country Club, listed on the National Register of Historic Places, is a classically rustic stone-and-wood mountain inn overlooking the spectacular scenery of North Carolina's Blue Ridge Mountains. Amenities at this 3,600-foot elevation, 1,400-acre, 117-room resort (with lodge rooms, cottages and cabins, all with private bath) include myriad seasonal events (children's programs, golf and tennis clinics, wildflower workshops), an 18-hole George W. Cobb-designed golf course, a full dining room with three sumptuous buffets daily, six tennis courts and a 35-acre lake for swimming, boating, fishing and other water-related activities. For more information, contact the High Hampton Inn & Country Club at 1525 Highway 107 South, Post Office Box 338, Cashiers, North Carolina 28717. Visit http://www.HighHamptonInn.com or contact reservations toll-free at (800) 334-2551.
For additional media information, contact:
Inga Marone
Pineapple Public Relations
http://www.Pineapple-PR.com
T: (404) 237-3761
F: (770) 454-6607
inga(at)pineapple-pr(dot)com
Jewel Hazelton
Pineapple Public Relations
http://www.pineapple-pr.com
jewel(at)pineapple-pr(dot)com
P: (404) 237-3761
###