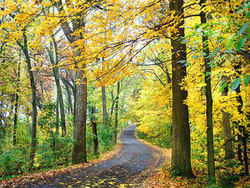 East Hartford, CT (Vocus) September 15, 2010
Planning fall foliage trips is no longer guesswork thanks to a growing arsenal of online tools dedicated to the so-called Leaf Peeping season. Expedia Travel's TripAdvisor forum reported that 86% of 2,000 surveyed travelers are planning 2010 fall trips, up from 73% last year, with 45% of the trip planners picking fall foliage viewing as their top activity. Yankee Magazine has picked Kent, CT as number one fall foliage experience on a 2010 list of Top 25 New England foliage towns with a dedicated site at YankeeFoliage.com. Other top New England towns picked by Yankee for their hiking, culture, scenery, drives and other criteria include: Bethel, ME; Manchester, VT; Williamstown, MA and Middlebury, VT.
Peak foliage color maps are easy to find on several state web sites such as TravelWisconsin.com and Foliage-Vermont.com. Click on a desired destination and the maps report the percentage of peak color appearing as of the date you visit the site. The U.S. Forest Service offers its fall color hotline and a guide to woodland foliage from coast to coast at http://www.fs.fed.us/news/fallcolors/ . And special fall events are everywhere, including on a site at BlueRidgeParkway75.org dedicated to activities in Virginia and North Carolina this fall marking the 75th Anniversary of the Blue Ridge Parkway, one of America's most scenic. College football weekends are a prime destination for many fall foliage fans and the Associated Press is out with its top-ten list of America's best college football tailgate party campuses. The list begins with LSU, followed by Mississippi, Washington, Tennessee, Ohio State, Nebraska, Texas, Penn State, Auburn and Army at West Point, NY. The active pace of fall travel makes Autumn Adventuring or Foliage Hunting seen even more accurate terms for surveying the colorful season than Leaf Peeping.
Remembering Trip Insurance
Travel Insured International reminds autumn adventurers that a range of coverage options for independent travelers, as well as simple group plans, are available at http://www.travelinsured.com . Foliage season falls within the active dates of hurricane season, which ends November 30, and potential accidents or illnesses that may disrupt a prepaid trip either before or after departure never take a total holiday. Here are just some coverage benefits to prevent your prepaid autumn travel dollars from disappearing with the leaves:

Most Travel Insured plans in the Worldwide Trip Protector line can cover against the recurrence of a pre-existing medical condition if the plan is bought with, or soon after, trip deposit.
Most plans also provide financial coverage in case the tour operator you pick for a fall foliage or sports tour suffers a default or bankruptcy before or during the itinerary.
Most plans provide Trip Cancellation coverage if a hurricane or other weather event causes your airline carrier to cease operating for 24 hours, or renders your accommodations uninhabitable.
Emergency medical expense coverage is part of every plan in case of travel accident or illness.
Job Loss Coverage is included under Trip Cancellation and a Cancel for Work Reasons option allows you to cancel if a mandated job conflict prevents your traveling.
Group Plans
Travel Insured group plans for motorcoach trips offer a simple set of rates whether the insurance plan is an inclusive part of the package or optional for each traveler. Pre-existing condition waivers are available with the purchase of the group plan all the way up until final trip payments. Post-departure plans are available if Trip Cancellation is not a necessity for the group. A Cancel for Any Reason option is available in either Deluxe or lower-cost Lite plans if purchased within 14 days of initial trip deposit. And the plans are family friendly. Families of 10 or more can now qualify for group rates. Additionally, there is no administration fee.
Travelers are encouraged to enjoy the great outdoors this autumn, whether the plan is to survey the tree colors or sport your team's colors at homecoming weekend. But remember to peep first at Travel Insured's choices of insurance plans. When you head for the hickory trees of the Ozarks, the aspens of the Rockies, or the maples of the Green Mountains, enjoying the season means carrying travel coverage as you catch the falling leaves.
About Travel Insured International
Travel Insured International, based in E. Hartford, CT, was founded in 1994 by the foresight of insurance industry executive Peter Gehris when he acquired the travel protection division of the Travelers Insurance Company. Coverage is underwritten by Arch Insurance Company (a Missouri corporation, NAIC #11150) with executive offices located in New York, NY. Arch Insurance is rated A ("Excellent") for financial strength by the insurance rating service A.M. Best. Not all insurance products or coverage is available in all jurisdictions. Coverage is subject to actual policy language
Travel Insured International
52-S Oakland Ave.
E. Hartford, CT 06128-0568
Contact: John Stone
Media Relations Manager
1-800-243-3174 x 117
jstone(at)travelinsured(dot)com
http://www.travelinsured.com
###