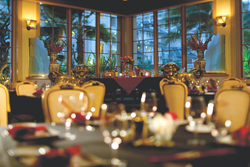 We wanted to showcase some of our more noteworthy cuisine. By creating this combination of starters, entrees, and desserts, we are giving everyone a truly unique Colony and Ciao Mein experience
Honolulu, HI (PRWEB) September 16, 2010
Hyatt Regency Waikiki Beach Resort and Spa invites the public to enjoy an evening of casual elegance filled with flavor, ambiance, and incredible value. The Colony Restaurant, Waikiki's renowned steak, seafood, and sushi restaurant and Ciao Mein, the award-winning Italian and Chinese restaurant, invite you to enjoy their new $49 menu features. The $49 menu is available at the Waikiki hotel beginning Wednesday, September 1, 2010. Reservations are available at (808) 237-6140 or (808) 923-CIAO (2426).
"The $49 menu was a great value for our guests and we are happy to bring it back with the addition of new flavors and options," says Vincent Brunetti, director of food and beverage at Hyatt Regency Waikiki Beach Resort and Spa. "Our chefs have created a menu that is pleasing from start to finish and features our most popular dishes for a portion of their regular prices."
"We wanted to showcase some of our more noteworthy cuisine. By creating this combination of starters, entrees, and desserts, we are giving everyone a truly unique Colony and Ciao Mein experience," adds Chef Jeff Wind, executive chef at Hyatt Regency Waikiki Beach Resort and Spa.
The AAA Four Diamond restaurants are open nightly from 6:00 p.m. to 10:00 p.m.. The Colony Lounge opens at 5:30 p.m. and features a special martini menu for $7 until 7:00 p.m. Please visit http://www.hyattregencywaikiki.com/dining-entertainment#restaurants for more information.
About Hyatt Regency Waikiki Beach Resort and Spa
Balanced between the idyllic beauty of the legendary Waikiki Beach and the dynamic city center, Hyatt Regency Waikiki Beach Resort and Spa is a vibrant destination combining relaxation and adventure with true Hawaiian hospitality. Each of the 1,229 guestrooms, including 31 suites, offers Hawaiian elegance and private lanai with panoramic beach, mountain, and city views. With an unrivaled location just steps from world-famous waves, the resort affords effortless exploration of the island's attractions, from Diamond Head Crater, Honolulu Zoo, and Waikiki Aquarium, to world-class shopping, sophisticated dining and expert surfing lessons. Offering endless amenities including luxurious treatments at the 10,000 square foot Na Ho'ola Spa, StayFit Fitness Center, freshwater swimming pool overlooking Waikiki Beach, award-winning dining at The Colony and Ciao Mein, daily live Hawaiian entertainment, and more than 60 boutiques onsite, Hyatt Regency Waikiki promises Hawaiian-style excitement paired with the warmth of authentic Aloha spirit.
For more information regarding Hyatt Regency Waikiki Beach Resort and Spa, please contact the resort by phone at (808) 923-1234, or visit the resort website at: hyattregencywaikiki.com]
###