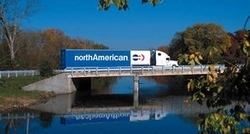 Our MyHomeBenefits program offers our customers ways to save money on top-notch mortgage and real estate services
Westmont, IL (Vocus) September 15, 2010
North American Van Lines Inc., one of the world's largest moving companies and a subsidiary of SIRVA, Inc., offers a MyHomeBenefits program, that provides discounts and cash-back rewards to customers who leverage the program's preferred real estate and mortgage networks.
North American Van Lines' MyHomeBenefits program offers the following discounts and benefits to customers:
-Real Estate Cash-Back Rewards: Customers receive $500 cash-back for every $100,000 in home value when a home is bought or sold through one of the program's nationwide real estate partners. State restrictions apply see website for details: http://navl.myhomebenefits.com/realestate/RealEstateMain.aspx
-$1,000 Reward to be Applied Towards First Month's Mortgage Payment: Customers can earn up to $1,000 at closing to cover their first month's mortgage payment when they close with SIRVA Mortgage**. Customers must apply for a loan with SIRVA Mortgage by October 1, 2010, in order to qualify. This is not an offer of credit. For licensing, additional loan requirements and information please visit: http://navl.myhomebenefits.com/mortgage/MortgageMain.aspx
For example, if a customer uses a MyHomeBenefits program preferred real estate agent on the sale of a $200,000 home and purchases a comparably priced home with SIRVA Mortgage and a preferred real estate agent, they would receive $2,000 cash-back after closing.
"Our MyHomeBenefits program offers our customers ways to save money on top-notch mortgage and real estate services," explains Dan Robertson, general manager of North American Van Lines. "Extending these services to our customers, at a discount, is just another way we're hoping to make the moving process more affordable."
To leverage northAmerican's MyHomeBenefits discount program, customers are encouraged to call 866-576-3232 or visit http://www.northamerican.com/real-estate-mortgage.aspx for more information.
About North American Van Lines, Inc.
North American Van Lines, Inc., established in 1933, is a wholly owned subsidiary of SIRVA, Inc., a leader in providing relocation solutions to a well-established and diverse customer base around the world. The moving company, with headquarters in Fort Wayne, Ind., and more than 300 agents, handles corporate, government, military and private relocations and operates in the U.S., Canada and more than 100 countries worldwide. Information on the company can be found on the Internet at http://www.northamerican.com.
**This is not an offer of credit. Mortgage approvals rendered based on individual credit qualifications.
###