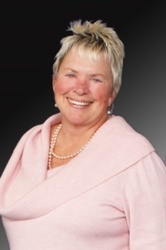 With all of her success, and willingness to share her challenges and advice, she's the perfect role model for every business person and budding entrepreneur.
Traverse City, MI (PRWEB) September 15, 2010
An international franchise successor - developing the largest franchised moving company in the U.S., and expanding to three countries - Mary Ellen Sheets is beyond driven. And she's fast to tell how her Be Relentless™ mantra and a soup can helped her overcome all the bumps in the road along the way.
"Mary Ellen is a true motivator," says Oneupweb CEO and Founder Lisa Wehr. "With all of her success, and willingness to share her challenges and advice, she's the perfect role model for every business person and budding entrepreneur."
Oneupweb's monthly podcast series, "Be Relentless: Business Success Against the Odds" delivers the inspirational stories of Michigan's leading entrepreneurs, business owners and professionals.
In the latest episode, Sheets reveals how she first started her franchise moving company with only one truck and a $350 investment. Today, Two Men and a Truck consists of over 1,300 trucks. Taking her business by the wheel with the help of her three children, Sheets has earned countless awards and recognition. Amongst the many titles she's received, both the International Franchise Association and Franchising World have named her "Entrepreneur of the Year".
"Two Men and a Truck is a brilliant business success story," says Wehr. "And Mary Ellen narrates her entrepreneurial journey charmingly."
Mary Ellen Sheets will have you quickly moved in this episode. You can listen and subscribe to the podcast series here.
About Oneupweb
Oneupweb has been an innovator in digital marketing for more than a decade, creating integrated online marketing plans that incorporate natural search engine optimization (SEO), paid search marketing (PPC), social media marketing, digital pr, display advertising, analytics, creative services, mobile marketing, website design, web 2.0 technology, audio/video/podcasting, and research, training and consultation. Heralded by an independent research firm for their leadership team, Midwestern work ethic and solid experience in optimizing complicated sites, Oneupweb has been named a Top 25 Search Marketing Agency by Advertising Age for four consecutive years, and CEO Lisa Wehr is recognized as an Ernst & Young Entrepreneur of the Year. The company publishes an award-winning blog entitled StraightUpSearch, and an award-winning monthly newsletter entitled OneUp Low-Down. Oneupweb is a privately held company located in Traverse City, Michigan. For more information on Oneupweb, please call 231.922.9977, visit OneUpWeb.com or follow them on Twitter @Oneupweb and @LisaWehr.
About the Podcast
"Be Relentless" is Oneupweb's tagline, lifestyle and now, part of the title of their newest podcast series. Each month, Oneupweb will profile the ups and downs, do's and don'ts and mesmeric life of one of Michigan's most exemplary business leaders-someone who has relentlessly pursued and found success against the odds. The goal of the series is to provide people with uplifting chronicles of those who've succeeded despite the odds--and to show them that it can be done. To access the podcast series, visit iTunes.
###