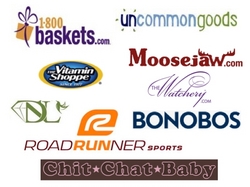 We're ecstatic over being recognized by STELLAService
New York, NY (PRWEB) September 15, 2010
STELLAService, the first and only company dedicated to providing independent, comprehensive ratings on the customer service quality of online retailers, today announced that several additional e-retailers are proudly displaying the STELLAService seal, the Web's most trusted signal of high quality customer service.
The following Internet retailers recently began displaying the award for their service excellence:

1-800-Baskets.com®
Bonobos.com
ChitChatBaby.com
DiamondNexusLabs.com
Moosejaw.com
RoadRunnerSports.com
TheWatchery.com
UncommonGoods.com
VitaminShoppe.com
It is becoming increasingly clear that online merchants – now numbering in the hundreds of thousands – cannot simply focus on price and selection alone as a way to differentiate and create new business. Since a majority of online retailers sell items that can be purchased from other sites at similar if not identical prices, there exists a laser-like focus for many sites around providing an outstanding, personalized experience for each and every visitor.
"We're ecstatic over being recognized by STELLAService," said Michael Gotfredson, owner of Road Runner Sports, the world's largest running and walking store. "We've perfected the WOW-experience for our customers over the last 27 years, and displaying the STELLAService seal on our website is proof of that."
Another addition to the network of customer-centric businesses is Bonobos, which was recently compared to number one rated Zappos.com in September's issue of Fast Company Magazine for its impeccable customer service. "Bonobos expert Ninjas strive to offer a best-in-class service experience to our customers. They are dedicated to handling any and every customer inquiry in a timely and professional manner which is core to our strategy and has driven outstanding customer loyalty and support," said Andy Dunn, Bonobos CEO. "We are thrilled to have the opportunity to display the STELLAService seal on our site as recognition for the extreme value we place on customer service."
The advent of STELLAService has created much-needed transparency when it comes to the service quality of Internet retailers. As a result, many online stores are intensifying their focus on delivering a high quality customer experience since they know service is increasingly factored into the online shopper's decision-making process. "We see every customer touch point as an opportunity to create a resonating and unique brand experience," said Gary Wohlfeill, Creative Director at Moosejaw Mountaineering. "Our customer service needs to be so good and so notable that every customer can't help but tell ten friends about it. We're super excited that STELLAService has recognized Moosejaw customer service as being some of the best around and worthy of displaying their seal."
"In the crowded e-commerce marketplace, consumers and businesses need ways to differentiate, and we're excited that STELLAService can offer that solution when it comes to the customer experience," said John Ernsberger, Co-founder of STELLAService. "As merchants continue to increase their focus on delivering great service and achieving a higher STELLA Rating, the bar for service excellence will continue to be raised, and ultimately the Internet will be a happier place for everyone to do business."
Look For The STELLAService Seal at These E-Retailers

1-800-Baskets.com®
Bonobos.com
ChitChatBaby.com
DiamondNexusLabs.com
Moosejaw.com
RoadRunnerSports.com
TheWatchery.com
UncommonGoods.com
VitaminShoppe.com
About STELLAService
STELLAService is the first and only company dedicated to publishing objective, in-depth ratings on the customer service performance of online businesses. STELLAService adheres to the highest evaluation standards; it does not inform Internet retailers of the timing of its evaluations and pays for all products purchased from - and returned to - each website it evaluates. Retailers cannot influence the ratings in any way other than providing consistently great service to their customers. The invaluable data obtained by STELLAService is used by consumers to make more informed online purchasing decisions and by companies to obtain crucial business and industry intelligence. Formed in April 2009, the company's Advisory Council and highly trained analysts represent today's thought-leaders in the area of online customer service. More information can be found at: http://www.stellaservice.com. For a complete listing of the STELLA Ratings, please visit: http://stellaservice.com/index.php/stella-ratings/view-ratings.html.
For more information, please contact:
Lisa Amore, AMORE PR for STELLAService
Office: 202-506-3056; lisa(at)amorepr(dot)com or PR(at)stellaservice(dot)com
###