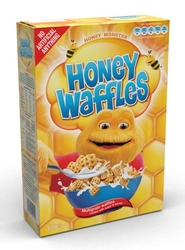 (PRWeb UK) September 15, 2010
On 15 September, Britain's most iconic yellow monster will explode back onto our screens in a charming television launch ad for Honey Waffles. The ad returns the Honey Monster to his true self and draws on his monster personality and undying love of honey.
Charlie is a boy with a secret. His best friend is the Honey Monster, who he has to keep hidden from the rest of the family. It's no easy task because Honey Monster loves honey and regularly escapes to search for his beloved Honey Waffles. The resulting carnage threatens to expose them both but luckily there's a scapegoat to take the blame. The spot ends with the Honey Monster whispering "don't tell 'em about the honey, mummy", a nod to the endline of Honey Monster's début in the 1970s Sugar Puffs ad.
The ad was directed by Garth Jennings of Hammer & Tongs, best known for Hitch Hikers Guide to the Galaxy and Son of Rambow. Working with kids and monsters can always be tricky and outtakes from the shoot can be viewed on the Honey Monster YouTube channel.
The campaign will extend online across kids websites and a partnership with the hugely successful Bin Weevils.
Notes to Editors: -
Honey Monster Foods is part of Big Bear Group, a manufacturer of British heritage food brands. Big Bear Group was founded in 2003 and is based in Leicester. In 2006, it acquired the business of Sugar Puffs from PepsiCo International and renamed it Honey Monster Foods after the character that has been promoting Sugar Puffs since 1976.
Since 2006, Honey Monster Foods has launched new products such as Honey Waffles, the cereal bar Monster Puffs and a number of Limited Edition Sugar Puffs, most recently Spooky Puffs for Halloween. All products under the Honey Monster title are still manufactured at the traditional site in Southall (Middlesex), where the first Sugar Puffs were produced in 1954.
The Honey Monster has found his way into the hearts of children and adults since his first appearance on television alongside Henry McGee with the immortal line 'Tell them about the honey, Mummy'. In later ads, he played football for Kevin Keegan, performed with Boyzone and lived the rap star dream as Sugar Puff Daddy.
For the latest news contact Frank PR (honeymonster (at) frankpr (dot) it) for any further information.
###