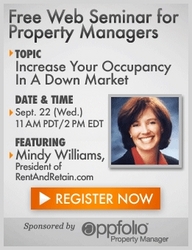 Santa Barbara, CA (PRWEB) September 16, 2010
AppFolio, providers of web-based property management software for residential property managers, announced a free Web seminar for property managers scheduled for Wednesday September 22nd at 11am PDT. Mindy Williams, President of RentAndRetain.com and Apartment All Stars Co-Founder, will offer her best practices and ideas on how property managers can maximize their occupancy in today's tough economy.
As the market for renters continues to become more competitive, it is vital for property managers to be strategic about their marketing campaigns to secure new business and use best practices to retain the residents they have. During the webinar, Mindy will provide tangible ways to run a more efficient business, reduce stress, and increase profitability.
Webinar Highlights:
-- Hot leasing, marketing and resident retention trends that you can leverage to acquire new renters and keep them happy.
-- 3 quick and easy goal setting tips that you can put into action immediately.
-- 4 ways to increase your productivity and improve your work environment so you get more done each day.
-- Ideas to increase the perception of value for your property with little or no money.
Date: Wednesday September 22, 11am PDT / 2pm EDT
This complimentary webinar is open to all residential property managers interested in the topic, and 5 attendees will win one of Mindy's books on resident retention -- click here to reserve your seat.
Featured Presenter
Mindy is an approved instructor for the California Department of Real Estate and trains thousands of management professionals each year during seminars for apartment associations. She has authored 10 books and is the President of RentandRetain.com and a co-founder of the Apartment All Stars.
Event Host
This educational event is hosted by AppFolio, providers of web-based property management software designed for today's residential property manager. AppFolio is committed to providing the property management community with tools that help them run a better business. AppFolio offers educational websites such as PropertyManager.com and GreenPropertyManagement.com as well complimentary webinars for property managers.
Headquartered in Santa Barbara, AppFolio was started by a team of technology leaders with proven experience creating software that businesses love to use. AppFolio creates complete, web-based solutions for multiple vertical markets and the first AppFolio product was specifically created for residential property managers. With investors including Cisco Systems, BV Capital and the Investment Group of Santa Barbara, AppFolio has secured $30 million in funding to date.
###